01.12.2014 | Original Article | Ausgabe 8/2014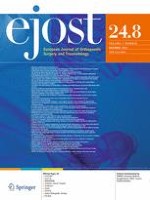 Cementless total knee arthroplasty in chronic inflammatory rheumatism
Autoren:

Jonathan Buchheit, Antoine Serre, Xavier Bouilloux, Marc Puyraveau, Laurent Jeunet, Patrick Garbuio
Wichtige Hinweise
Patrick Garbuio: Consultant for Zimmer and ATF; Antoine Serre: Consultant for Zimmer.
Abstract
Introduction
We report a short-term monocentric retrospective evaluation of cementless total knee arthroplasty (TKA) in a population suffering from chronic inflammatory rheumatism.
Materials and methods
We have reviewed 23 patients (34 knees) with an average age of 55 years (range 26–78), bearing a TKA for chronic inflammatory rheumatisms with a 6-year follow-up (range 3–12); 78 % suffered from rheumatoid arthritis and 15 % from juvenile rheumatoid arthritis. We used a cementless total prosthesis sacrificing the posterior cruciate ligament and bearing an ultra-congruent rotational tibial insert, the Natural Knee (NK2™) (Zimmer®, Warsaw, IN, USA). At last follow-up, an independent surgeon performed a clinical assessment for pain, function and quality of life using International Knee Documentation Committee score, International Knee Society (IKS) score and Devane's score. A radiographic study evaluated secondary fixation according to the radiographic index of the Knee Society and according to Ewald's score.
Results
The mean postoperative IKS score was 83 points (range 40–100) for the knee score and 74 points (range 20–100) for the function score. Radiographic assessment came across only one case of loosening, concerning the tibial component on an asymptomatic patient. We came across the following complications: 1 early infection, 2 important postoperative flessum deformity having needed an arthrolysis, 1 supracondylar fracture of the femur and 1 fracture of the patellar component. Survival rate at 6-year follow-up is 97 % taking into account one case of revision.
Conclusion
Non-cementation of this implant in chronic inflammatory rheumatism does not result in a higher rate of loosening. In this series, patients own satisfaction, function of the knee and survival rate are rather good.
Level of evidence
Retrospective, no control group, Level IV.