01.12.2018 | Research | Ausgabe 1/2018 Open Access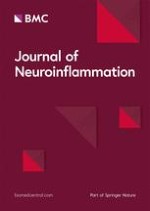 Central blockade of NLRP3 reduces blood pressure via regulating inflammation microenvironment and neurohormonal excitation in salt-induced prehypertensive rats
Zeitschrift:
Autoren:

Mo-Lin Wang, Yu-Ming Kang, Xiao-Guang Li, Qing Su, Hong-Bao Li, Kai-Li Liu, Li-Yan Fu, Roland Osei Saahene, Ying Li, Hong Tan, Xiao-Jing Yu
Wichtige Hinweise
Electronic supplementary material
Abstract
Background
Inflammation has been implicated in the development of cardiovascular disease. We determined whether nod-like receptor with pyrin domain containing 3 (NLRP3) involved in the process of prehypertension, central blockade of NLRP3 decreased inflammation reaction, regulated neurohormonal excitation, and delayed the progression of prehypertension.
Methods
Prehypertensive rats were induced by 8% salt diet. The rats on high-salt diet for 1 month were administered a specific NLRP3 blocker in the hypothalamic paraventricular nucleus (PVN) for 4 weeks. ELISA, western blotting, immunohistochemistry, and flow cytometry were used to measure NLRP3 cascade proteins, pro-inflammation cytokines (PICs), chemokine ligand 2 (CCL2), C-X-C chemokine receptor type 3 (CXCR3), vascular cell adhesion molecule 1 (VCAM-1), neurotransmitters, and leukocytes count detection, respectively.
Results
NLRP3 expression in PVN was increased significantly in prehypertensive rats, accompanied by increased number of microglia, CD4+, CD8+ T cell, and CD8+ microglia. Expressions of PICs, CCL2, CXCR3, and VCAM-1 significantly increased. The balance between 67-kDa isoform of glutamate decarboxylase (GAD67) and tyrosine hydroxylase (TH) was damaged. Plasma norepinephrine (NE) in prehypertensive rats was increased and gamma-aminobutyric acid (GABA) was reduced. NLRP3 blockade significantly decreased blood pressure, reduced PICs, CCL2, VCAM-1 expression in PVN, and restored neurotransmitters. Blood pressure and inflammatory markers were upregulated after termination of central blockage NLRP3.
Conclusions
Salt-induced prehypertension is partly due to the role of NLRP3 in PVN. Blockade of brain NLRP3 attenuates prehypertensive response, possibly via downregulating the cascade reaction triggered by inflammation and restoring the balance of neurotransmitters.