01.12.2018 | Research article | Ausgabe 1/2018 Open Access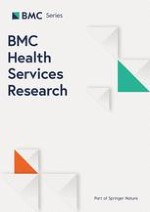 Challenges and opportunities for healthcare workers in a rural district of Chad
Zeitschrift:
Autoren:

Fabienne N. Jaeger, Mahamat Bechir, Moumini Harouna, Daugla D. Moto, Jürg Utzinger
Abstract
Background
Trained healthcare workers are an essential resource for effective health systems. However, healthcare workers' perspective on healthcare, the challenges they face to provide quality health services, and opportunities to improve motivation and providing adequate care are rarely investigated in resource-constrained settings of sub-Saharan Africa.
Methods
All reachable nurses of Abou Deia, a primarily rural district in the south-eastern part of Chad, were invited to participate. In-depth interviews were conducted to assess current challenges and opportunities faced in daily work, including factors that influence motivation and social wellbeing. Particular emphasis was placed on paediatric care.
Results
Eight nurses were interviewed. Main work challenges pertained to overall workload, a lack of training and support regarding a serious case mix to be managed on their own, adverse working conditions, issues related to the local communities, and the impact of postings on nurses' private life. Poor working conditions and perceived lack of recognition emerged as the main demotivating factors. Motivation to improve nurses' skills so that they can provide good care, coupled with small, suggested changes in working conditions and health care organisation provide opportunities worth exploring to improve health workers' satisfaction, motivation and the care they can provide.
Conclusions
Health workers in a predominantly rural district in Chad face a wide variety of challenges, and hence their perspectives need to be taken into account to improve health services interventions that aim at enhancing quality of care. Nurses' willingness to further develop skills and knowledge, proactive search of solutions to remedy stock-outs of drugs and other medical devices, and motivational factors to improve the quality of care represent important opportunities for improving health services for all.