12.06.2018 | Review | Sonderheft 3/2018 Open Access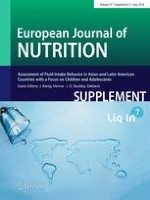 Challenges in the assessment of total fluid intake in children and adolescents: a discussion paper
Zeitschrift:
Autoren:

Janet Warren, Isabelle Guelinckx, Barbara Livingstone, Nancy Potischman, Michael Nelson, Emma Foster, Bridget Holmes
Abstract
Purpose
In recent years, evidence has emerged about the importance of healthy fluid intake in children for physical and mental performance and health, and in the prevention of obesity. Accurate data on water intake are needed to inform researchers and policymakers and for setting dietary reference values. However, to date, there are few published data on fluid or water intakes in children. This is due partly to the fact that drinking water is not always reported in dietary surveys. The aim of this paper is to review the current status of the literature and highlight the challenges of assessing total fluid intake in children and adolescents.
Results
From the dietary assessment literature it is apparent that children present unique challenges to assessing intake due to ongoing cognitive capacity development, limited literacy skills, difficulties in estimating portion sizes and multiple caregivers during any 1 day making it difficult to track intakes. As such, many issues should be considered when assessing total fluid intakes in children or adolescents. Various methods to assess fluid intakes exist, each with its own strengths and weaknesses; the ultimate choice of method depends on the research question and resources available. Based on the literature review, it is apparent that if the research focus is to assess only fluid intake, a fluid-specific method, such as a diary or record, appears to be a feasible approach to provide an accurate estimate of intakes.