01.12.2018 | Research article | Ausgabe 1/2018 Open Access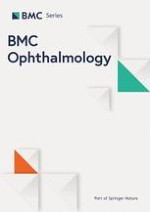 Changes in anterior chamber volume after implantation of posterior chamber phakic intraocular lens in high myopia
Zeitschrift:
Autoren:

Yi Zhu, Haobin Zhu, Yan Jia, Jibo Zhou
Abstract
Background
The present study aimed to assess changes in, and the factors that influence, anterior chamber volume (ACV) after implantable contact lens (ICL) implantation in high myopia eyes using a Pentacam.
Methods
The study sampled 26 high myopia patients (45 eyes) who were treated with ICL implantation. These patients were followed for an average of 4.28 months postoperatively. ACV was measured with a Pentacam preoperatively and at 3 months postoperatively. The data were analyzed by paired samples Wilcoxon signed-rank test. Generalized estimating equation (GEE) model adjusting within-patient intereye correlations in addition to Pearson's and Spearman's correlation tests were performed to determine associations.
Results
The mean ACV was 198.33 ± 33.08 mm
3
before surgery and 118.65 ± 17.70 mm
3
after surgery. A significant decrease of 79.68 mm
3
(40.18%) (
Z
= 5.841,
P
<  0.001) was detected. Positive correlations were found between ACV changes and ICL central vault (
r
= 0.528,
P
<  0.001) and preoperative anterior chamber depth (ACD) (
r
= 0.665,
P
<  0.001). There were positive correlations between postoperative ACV and postoperative anterior chamber angle (ACA) at 3:00 o'clock (
r
= 0.448,
P
= 0.002) and at 9:00 o'clock (
r
= 0.405,
P
= 0.006). GEE regression model showed that postoperative ACV significantly positively correlated with preoperative ACV (
P
= 0.002), ACD (
P
= 0.002) and horizontal ACA (
P
= 0.005) and negatively correlated with ICL central vault (
P
<  0.001).
Conclusion
Complementary to vault and ACD, ACV is a sensitive parameter with certain value of preoperative assessment and postoperative monitoring in ICL implantation.