30.04.2016 | Original Article | Ausgabe 7/2016 Open Access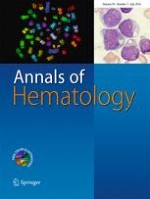 Changes in bone marrow morphology in adults receiving romiplostim for the treatment of thrombocytopenia associated with primary immune thrombocytopenia
Zeitschrift:
Autoren:

Ann Janssens, Francesco Rodeghiero, David Anderson, Beng H. Chong, Zoltán Boda, Ingrid Pabinger, Libor Červinek, Deirdra R. Terrell, Xuena Wang, Janet Franklin
Wichtige Hinweise
Electronic supplementary material
The online version of this article (doi:
10.​1007/​s00277-016-2682-2
) contains supplementary material, which is available to authorized users.
These results have been previously presented in part at the following congress:
Final results from a phase 4 open-label 3-year study evaluating changes in bone marrow morphology in adult immune thrombocytopenia (ITP) patients receiving the thrombopoietin mimetic romiplostim. American Society of Hematology Annual Meeting; December 6–9, 2014; San Francisco, CA, USA.
Abstract
The effects of romiplostim on bone marrow morphology were evaluated in adults with immune thrombocytopenia (ITP). Patients with platelet counts <50 × 109/L, ≥1 prior ITP therapies, and no collagen at baseline received weekly subcutaneous romiplostim starting at 1 μg/kg, adjusted to maintain platelet counts between 50 and 200 × 109/L. Biopsies were scheduled after 1, 2, or 3 years of romiplostim (cohorts 1, 2, and 3, respectively). Irrespective of scheduled time, biopsies were performed earlier if patients discontinued or failed to achieve/maintain a response to romiplostim. Reticulin (silver stain) and collagen (trichrome stain) were graded by two hematopathologists using the modified Bauermeister scale (0–4). Of 169 patients, 131 had evaluable biopsies; 9/131 (6.9 %) had increases of ≥2 grades on the modified Bauermeister scale (cohort 1: 0/34; cohort 2: 2/39; cohort 3: 7/58), including two with collagen. Three of the nine patients had follow-up biopsies, including one patient with collagen; changes were reversible after romiplostim discontinuation. Of the nine patients, one had neutropenia detected by laboratory test and two had adverse events of anemia, both non-serious and not treatment-related. By actual exposure (as some biopsies did not occur as scheduled), the number of patients with grade increases ≥2 were year 1: 3/41, year 2: 1/38, year 3: 5/52. Twenty-four patients sustained platelet counts ≥50 × 109/L for ≥6 months with no ITP medications after discontinuing romiplostim, i.e., they entered clinical remission of their ITP. In conclusion, in patients with ITP receiving romiplostim, bone marrow changes were observed in a small proportion of patients.
ClinicalTrials.gov identifier: NCT#00907478