30.04.2016 | Original Article | Ausgabe 7/2016 Open Access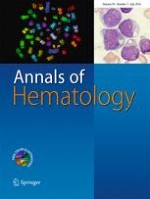 Changes in bone marrow morphology in adults receiving romiplostim for the treatment of thrombocytopenia associated with primary immune thrombocytopenia
Zeitschrift:
Autoren:

Ann Janssens, Francesco Rodeghiero, David Anderson, Beng H. Chong, Zoltán Boda, Ingrid Pabinger, Libor Červinek, Deirdra R. Terrell, Xuena Wang, Janet Franklin
Wichtige Hinweise
Electronic supplementary material
The online version of this article (doi:
10.​1007/​s00277-016-2682-2
) contains supplementary material, which is available to authorized users.
These results have been previously presented in part at the following congress:
Final results from a phase 4 open-label 3-year study evaluating changes in bone marrow morphology in adult immune thrombocytopenia (ITP) patients receiving the thrombopoietin mimetic romiplostim. American Society of Hematology Annual Meeting; December 6–9, 2014; San Francisco, CA, USA.
Introduction
Methods
This phase 4, prospective, open-label, multicenter study evaluated changes in bone marrow reticulin and collagen in patients with ITP receiving romiplostim (Fig.
1
). The study was approved by the relevant institutional review boards or ethics committees and conducted in accordance with the Helsinki Declaration. All patients gave written informed consent. Eligible patients were ≥18 years of age with ITP per American Society of Hematology guidelines and had platelet counts <50 × 10
9
/L, ≥1 prior ITP therapy (e.g., corticosteroids, IVIg, or splenectomy), and a baseline bone marrow biopsy negative for collagen.
×
The primary endpoint was the incidence of collagen in biopsies after up to 1, 2, or 3 years of romiplostim treatment (cohorts 1, 2, and 3, respectively). Biopsies were performed earlier if patients discontinued early or failed to achieve/maintain a response to romiplostim (platelet counts ≤20 × 10
9
/L for 4 consecutive weeks at the maximum romiplostim dose). Patients from cohorts 1 and 2 could continue to receive romiplostim after biopsy for up to a total of 3 years. Reticulin and collagen were measured using the modified Bauermeister scale (Online Resource Table
S1
) [
12
]. Grades 0–3 measure changes in reticulin (silver staining), whereas grade 4 is defined as a diffuse, often coarse reticulin fiber network with areas of collagenization (trichrome staining) [
12
]. All samples were read by two hematopathologists at a central laboratory, with grading discrepancies adjudicated by an independent bone marrow panel. Secondary endpoints included the incidence of bone marrow reticulin increases of ≥2 severity grades over baseline or to grade 4 (collagen).
Safety endpoints included adverse events (AEs), the incidence of neutralizing antibody formation to romiplostim or cross-reacting antibody to endogenous TPO, and the incidence of Common Terminology Criteria for Adverse Events grade ≥2 shift in white blood cell (neutropenia) or red blood cell (anemia) AEs or laboratory values. AEs were specifically monitored for myelofibrosis, defined as proliferation of abnormal bone marrow stem cells resulting in fibrosis or the replacement of the marrow with collagenous connective tissue fibers.
Patients received weekly subcutaneous romiplostim injections for up to 3 years, starting at 1 μg/kg, with weekly adjustment in increments of 1 μg/kg up to a maximum of 10 μg/kg to target platelet counts between 50 and 200 × 10 9/L. Patients also received any prescribed concomitant ITP medications or treatments deemed necessary to provide adequate supportive care (e.g., corticosteroids). Romiplostim was initially administered at clinic visits. At the investigator's discretion, patients who achieved a platelet count ≥50 × 10 9/L without dose adjustments for 4 consecutive weeks were eligible to self-administer romiplostim or have the injection administered by a caregiver. Patients did not necessarily self-administer romiplostim continuously. A post hoc analysis was performed to identify patients exhibiting clinical remission, i.e., sustained platelet counts ≥50 × 10 9/L for ≥6 months with no ITP medications after discontinuing romiplostim.
The analysis of study endpoints included all patients who received at least one dose of romiplostim. All endpoints were summarized descriptively; continuous endpoints were summarized by mean (standard deviation), median (quartile 1 [Q1], quartile 3 [Q3]), minimum, and maximum values; categorical variables were summarized by frequency or percentage in each category.
Results
Discussion
In conclusion, our data indicate that in patients with ITP treated with romiplostim, there was a low incidence of bone marrow changes (nine in 131 evaluable biopsies, or 6.9 %). Whether these observations are specifically related to romiplostim exposure and response, i.e., those patients responding well at lower doses being at lower risk of developing bone marrow changes than those requiring higher doses, requires further evaluation. The low incidence of both collagen and increased reticulin is consistent with previous romiplostim studies.
Acknowledgments
The authors would like to thank Susanna Mac (of Amgen Inc.) and Miranda Tradewell (of Complete Healthcare Communications, Inc. on behalf of Amgen Inc.) for medical writing support and Dr. Suzanne Coberly (of Pathology at Amgen Inc.) for expert assistance in selecting and preparing the bone marrow images.
Compliance with ethical standards
Funding
The study was sponsored by Amgen Inc.
Conflict of interest
All authors had full access to all data, contributed to critically interpreting the data, and participated in writing the manuscript. They did not receive remuneration for authorship. AJ is on the speakers' bureau/advisory boards for Amgen Inc., GSK, Roche, and Mundipharma. FR has research grants from GSK and Amgen Inc. and is on speakers' bureau/advisory boards for GSK and Amgen Inc. DA and ZB have no disclosures. BC received research grants from GSK and Amgen Inc. and is on their speakers' bureau. IP has research grants from CSL Behring and honoraria from CSL Behring, Amgen Inc., Boehringer Ingelheim, Bayer, Baxter, and Pfizer and is on speakers' bureau/advisory boards for CSL Behring, Amgen Inc., Boehringer Ingelheim, Bayer, Baxter, and Pfizer. LC is a consultant for Amgen Inc., GSK, and Alexion. DT was a consultant for Amgen Inc. XW and JF are employees of and stockholders in Amgen Inc.
Ethical approval
All procedures performed in studies involving human participants were in accordance with the ethical standards of the institutional and/or national research committee and with the 1964 Helsinki Declaration and its later amendments or comparable ethical standards.
Informed consent
Informed consent was obtained from all individual participants included in the study.
Open Access
This article is distributed under the terms of the Creative Commons Attribution 4.0 International License (http://creativecommons.org/licenses/by/4.0/), which permits unrestricted use, distribution, and reproduction in any medium, provided you give appropriate credit to the original author(s) and the source, provide a link to the Creative Commons license, and indicate if changes were made.