01.04.2009 | Review | Ausgabe 4/2009 Open Access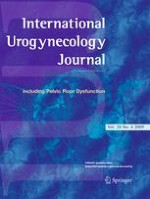 Changes in connective tissue in patients with pelvic organ prolapse—a review of the current literature
Zeitschrift:
Autoren:

M. H. Kerkhof, L. Hendriks, H. A. M. Brölmann
Abbreviations
ATFP
Arcus tendineus fasciae pelvis
UsR
Uterosacral ligament resilience
AGE
Advanced glycated endproduct
MMP
Matrix metalloproteinases
TIMP
Tissue-derived inhibitors of metalloproteinases
Introduction
Pelvic organ prolapse (POP) is a global health problem, affecting adult women of all ages. It decreases their quality of life considerably [
1
–
3
]. POP is one of the most common reasons for gynaecological surgery in women after the fertile period. The failure rate is relatively high: An estimated 30% of women require re-operation [
3
]. Despite the high incidence of POP, little is known about the underlying pathophysiolgy of POP. Multiparity, old age, overweight, chronic straining and obstructive lung diseases are the most important risk factors [
4
,
5
]. However, also nulliparous women without any risk factors may develop POP. Therefore, a genetic predisposition may play a role as well [
6
–
8
]. When a mother has POP, the relative risk for the daughter of developing POP is 3.2. With a sister's positive medical history, this relative risk is 2.4 [
9
]. In combination with the finding that women with joint hypermobility have a significant higher prevalence of POP [
10
], it is hypothesised that a connective tissue factor is involved.
In 1996, Jackson found that patients with a descent of the cervix to, or beyond the introitus, with associated cystocele, have a reduced collagen content, with a relatively high content of immature collagen cross-links compared to non-POP patients. This newly formed collagen is degraded more easily than older glycated material, resulting in a decrease of collagen content, leaving behind glycated collagen resulting in tissue with an impaired mechanical strength [
11
]. He also found an increase in metalloproteinase activity, suggesting an increased degradation of collagen in patients with POP. He concludes that the bulk of this deficient glycated old collagen, which is brittle and susceptible to rupture, is an important aetiologic factor in POP. Up till now, the connective tissue metabolism is assessed by biochemical evaluation. The role of fibroblasts that produce the molecules in the extracellular matrix, such as collagen and elastin, needs further elucidation. It has been suggested to treat POP with autologous stem cells [
12
]. These stem cells are stimulated to differentiate into fibroblast-like cells producing collagen and can be seeded on biocompatible material serving as a "bioactive scaffold". Before doing so, it is important to know if there is a defective collagen metabolism at all caused by an error in the fibroblast, and if so, if this is the result of a genetic or an acquired defect.
The objective of this review is to summarise our current understanding of changes in pelvic floor connective tissue in women with POP compared to women without POP. Studies concerning collagen metabolism in POP patients will be reviewed in the light of Jackson's hypothesis [
13
]. Based on subsequent literature, we will test this hypothesis against the latest facts. We will also make recommendations for future research. Ultimately, this knowledge may lead to preventive measures that could eliminate or delay the onset of prolapse and improve surgical treatment.
Materials and methods
The primary investigator and a clinical librarian searched the computerised databases MEDLINE and EMBASE up to 2008, using terms such as "prolapse", "uterine prolapse", "cystocele", "rectocele", "pelvic organ support", "urinary incontinence", "connective tissue", "collagen", "hydroxyproline", "tropocollagen", "procollagen", "protocollagen", "extracellular matrix", "elastic tissue", "supportive tissue", "extracellular matrix proteins", "tissue inhibitor of metalloproteinases", "matrix metalloproteinases" and "collagenases". Not only free text terms but also Mesh terms were used. Only data published in full article form were included. Additionally, articles were obtained by reviewing reference lists of pertinent studies and reviews. Also, the Web of Science was searched for "citing papers" and "related articles". No articles written in languages other than English provided additional information.
Anatomy and function of the vagina and supportive connective tissue
The pelvic floor is the caudal confinement of the abdominal cavity, which contains the abdominal viscera. In the days when we were quadrupeds, the pelvic floor was supposed to wag the tail. Now, in erect humans, its function is to prevent the viscera from "falling out" and to enable sexual intercourse, birth and the deliberate passage of stools and urine. In case of a sudden increase of the abdominal pressure, e.g. during coughing, all the muscles confining the abdominal cavity will contract. They create a counterforce that maintains the bodily shape. The pelvic floor is lifted at contraction and the genital hiatus is closed, preventing not only the uterus and vagina but also the intestines from being pushed out. If the pelvic floor has weakened, e.g. during vaginal delivery, the hiatus may not fully close anymore at contraction of the levator muscle. The counterforce will not come into effect, and POP may occur.
A second line of defence is the vaginal support from the connective tissue attachments between the vagina and the pelvic sidewall and levator ani muscles. The supportive connective tissue is a continuous, interdependent sheet, which supports the vagina and the pelvic organs. Based on post mortem data, Delancey [
14
] described pelvic floor support at three levels. Level I includes the uterosacral ligaments. The middle part of the vagina (endopelvic fascia) is attached laterally to the arcus tendineus fasciae pelvis (ATFP) and the superior fascia of the levator ani muscles (level II). In the lower third of the vagina, the wall is directly attached to the surrounding structures, the perineal membrane and the perineal body (level III). This suspensory system prevents the uterus and vagina from falling out while the hiatus is opened. If the resilience of the connective tissue decreases with age, the ligaments may finally give way, and POP may develop [
15
].
Pelvic floor connective tissue
The vaginal wall is composed of four layers: a superficial layer of stratified squamous epithelium, a subepithelial dense connective tissue layer, composed primarily of collagen and elastin, a layer of smooth muscle referred to as the muscularis and an adventitia, which is composed of loose connective tissue. The vaginal subepithelium and muscularis together form a fibromuscular layer beneath the vaginal epithelium, providing longitudinal and central support.
The connective tissue underlying the vagina contains relatively few cells: Beside fat cells and mast cells, mainly fibroblasts are found, producing components of the extracellular matrix (ECM). The ECM contains fibrillar components (collagen and elastin) embedded in a non-fibrillar ground substance. This ground substance consists of non-collagenous glycoproteins, proteoglycans and hyaluronan. In addition, with the exception of the ATFP, these tissues contain a significant amount of smooth muscle cells [
16
]. The fibrillar component is thought to contribute the most to the biomechanical behaviour of these tissues. The quantity and quality of collagen and elastin are regulated through a precise equilibrium between synthesis, maturation and degradation. This process results in a dynamic process of constant remodelling.
Collagen synthesis
Maturation and physiological ageing of collagen
With the knowledge of changes of collagen with age, more research of POP, especially in young women, will elucidate the underlying pathophysiology of the disease.
Degradation of collagen
The balance between synthesis and degradation of collagen is important for maintaining tissue integrity and tensile strength during continuous tissue remodelling. Degradation depends upon the combined activity of matrix metalloproteinases (MMP) and their regulation of release, activation or sequestration of growth factors, growth factor binding proteins, cell surface receptors and cell–cell adhesion molecules [
26
]. MMPs are being synthesised intracellularly and secreted as pro-enzymes into the extracellular space, which requires conversion to the active form for enzymatic activity. Twenty-three different members of the MMP family have been identified in humans. They all can degrade one or more extracellular matrix components, however, with different specificities. The interstitial and neutrophil collagenases (MMP-1, MMP-8, MMP-13) are capable of cleaving fibrillar collagen, while the gelatinases (MMP-2 and MMP-9) degrade the resulting denatured peptides. Acid cathepsins depolymerise collagen fibres by cleaving near cross-link sites. The combined action of these enzymes is capable of degrading all components of the extracellular matrix.
To limit connective tissue degradation, the activity of MMPs is regulated by modulation of pro-enzyme production [
27
]. Overdegradation is also regulated by endogenous inhibitors: serum-borne inhibitors and the tissue-derived inhibitors of metalloproteinases (TIMPs). They bind stoichiometrically to MMPs to inhibit their activity. TIMP-1, as well as TIMP-3, binds to MMP-1 and MMP-9; TIMP-2 binds to MMP-2 [
28
,
29
]. Recently, those that have been formed in vitro have shown that active MMPs can also be inactivated spontaneously by degradation into smaller fragments. This process is referred to as autocatalysis [
30
,
31
].
Elastin
The mechanical properties of tissues are also dependent on the proportion of elastin, an insoluble polymer that is formed by the assembly of tropo-elastin monomers followed by catalysis of cross-link formation by lysyl oxidases (LOX). Elastin allows the tissue to stretch and return to its original shape without energy input [
32
]. This property of resilience is presumed important for reproductive tissues. It accommodates the enormous expansion in pregnancy and involution after parturition. Production of elastin is unique among connective tissue proteins. In most organs, elastin biosynthesis is limited to a brief period of development. The assembly of elastic fibres is complete by maturity when tropo-elastin synthesis ceases. In undisturbed tissues, elastic fibres produced in the third trimester of foetal life last the rest of life [
33
]. In the female reproductive tract, however, elastic fibre turnover appears to be continuous. Recently, it is found that LOX is essential for elastic fibre homeostasis in many tissues, including the female pelvic organs. Mice lacking LOXL1 are unable to synthesise elastin polymers in adult tissue, whereas collagen synthesis appears to proceed normally. These mice also fail to replenish mature elastin fibres in the reproductive tract after parturition. They develop spontaneous prolapse [
33
,
34
]. Fibulin-5, which is an elastic binding protein crucial for elastic fibre assembly [
35
], is believed to act as a bridge between cells and tropo-elastin for effective cross-linking and assembly of tropo-elastin into mature elastic fibres. Increased synthesis of tropo-elastin and fibulin-5 may be necessary to counteract for disruption of elastic fibres and to regenerate elastic fibres in the vaginal wall. In fibulin-5 knock-out mice, POP was similar to that in primates, suggesting that synthesis and assembly of elastic fibres are crucial for recovery of pelvic organ support after damage. Disordered elastic fibre homeostasis seems to be a primary event in the pathogenesis of POP in mice [
36
].
Pelvic floor connective tissue in POP
Discussion
Conclusion
Recent literature data support the hypothesis of Jackson formulated in 1996—more brittle collagen in pelvic floor connective tissue that is difficult to degrade in POP patients compared to non-POP patients—but do not resolve long-standing questions on the aetiology of POP.
Acknowledgements
We would like to thank Prof Dr R. Bank (matrix biologist; TNO Quality of Life) and M.N. Helder, Ph.D. biochemist, for reading the manuscript and I. Riphagen, clinical librarian, for her assistance with the literature search.
Conflicts of interest
None.
Open Access
This article is distributed under the terms of the Creative Commons Attribution Noncommercial License which permits any noncommercial use, distribution, and reproduction in any medium, provided the original author(s) and source are credited.
Open Access
This is an open access article distributed under the terms of the Creative Commons Attribution Noncommercial License (
https://​creativecommons.​org/​licenses/​by-nc/​2.​0
), which permits any noncommercial use, distribution, and reproduction in any medium, provided the original author(s) and source are credited.