07.12.2019 | Original article | Ausgabe 1/2020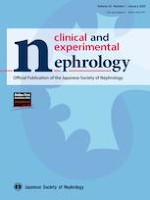 Changes in double-strand DNA breaks predict delayed graft function (DGF) in Japanese renal allograft recipients
Zeitschrift:
Autoren:

Keiichiro Okada, Kanae Nomura-Nakayama, Yuki Okushi, Kazuaki Okino, Kiyotaka Mukai, Norifumi Hayashi, Keiji Fujimoto, Hiroki Adachi, Hitoshi Yokoyama
Wichtige Hinweise
Electronic supplementary material
Publisher's Note
Springer Nature remains neutral with regard to jurisdictional claims in published maps and institutional affiliations.
Abstract
Background
Although delayed graft function (DGF) is a serious complication following kidney transplantation, a reliable and early diagnostic test is lacking to identify the grade of DGF.
Methods
We investigated changes in double-strand DNA breaks (DSBs), and factors related to DGF, such as ischemic times at transplantation and serum creatinine (sCr) levels. DSBs were detected by phospho-histone H2A.X (γ-H2AX) expression and cellular regeneration by Ki-67 before (0 h) and 1 h after allograft reperfusion (1 h) in each subject.
Results
The expression of γ-H2AX or Ki-67 at 0 h showed no difference between the living and deceased donors. γ-H2AX at 1 h decreased in the living donors, but increased in the deceased donors compared with that of 0 h(
p 
= 0.017). Changes (Δ) in γ-H2AX between 0 and 1 h were different among subgroups, i.e., immediate function, slow graft function with dialysis < 7 days, DGF with dialysis < 4 weeks, severe DGF with dialysis > 4 weeks, or primary non-function (PNF) (
p 
= 0.04). Severe DGF and PNF cases showed greater increase in Δγ-H2AX (
p 
= 0.019), and were distinguished by > 12% of Δγ-H2AX at 100% sensitivity and 88.2% specificity (ROC analysis, AUC: 0.922,
p 
= 0.023). In a multivariate regression analysis, donor sCr and Δγ-H2AX were two main predictors of the grade of DGF (
p 
= 0.002). The expression of Ki-67 was very low at both 0 h and 1 h.
Conclusion
The combination of donor sCr and Δγ-H2AX from 0 to 1 h after reperfusion may predict severe DGF and PNF in the early phase.