01.12.2016 | Research article | Ausgabe 1/2016 Open Access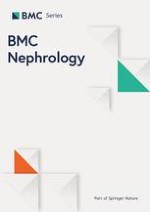 Changes in renal WT-1 expression preceding hypertension development
Zeitschrift:
Autoren:

Luciana Mazzei, Mercedes García, Juan Pablo Calvo, Mariana Casarotto, Miguel Fornés, María Angélica Abud, Darío Cuello-carrión, León Ferder, Walter Manucha
Wichtige Hinweise
Electronic supplementary material
The online version of this article (doi:
10.​1186/​s12882-016-0250-6
) contains supplementary material, which is available to authorized users.
Competing interests
The author(s) declared no potential conflicts of interest with respect to the research, authorship, and/or publication of this article.
Authors' contributions
WM and LF contributed to conception and design of the study, with substantial contribution to data acquisition, analysis and interpretation of the data, drafting of the article, and critical revision of the article for intellectual content. LM, MG, JPC, MC performed the animal procedures with contribution to data acquisition, analysis and interpretation. MAA performed the biochemical determinations. DCC performed the immunohistochemical studies. MF performed the electron microscopy. All authors read and approved the final manuscript.
Abstract
Background
Hypertension is a public health problem with mostly unknown causes, and where strong hereditary genetic alterations have not been fully elucidated. However, the use of experimental models has provided valuable information. Recent evidences suggest that alterations in key nephrogenic factors, such as Wilms' tumor 1 transcription factor (WT-1), could contribute to the development of hypertension. The aim of this paper is to evaluate the expression of WT-1 and related genes in the nephrogenic process in connection with the development of hypertension as well as the corresponding anatomical and functional correlation.
Methods
Male spontaneously hypertensive and control rats were evaluated weekly from birth until week 8 of life. Their blood pressure was taken weekly using the tail-cuff blood pressure system. Weekly, 5 rats per group were sacrificed with a lethal injection of pentobarbital, and their kidneys were removed, decapsulated and weighed. The serum was collected for measuring biochemical parameters. The results were assessed using one-way analysis of variance for comparisons between groups.
Results
The relationship between renal weight/total body weights was established, without significantly different values. These data were compared with apoptosis, fibrosis, number and size of the glomeruli. The elevation of systolic blood pressure was significant since week 6. Biochemical values differed slightly. Histology showed a slight increase in deposits of collagen fibers since week 4. Additionally, in kidney cortices, the expression of WT-1, heat shock protein 70 (Hsp70) and vitamin D receptors (VDR) decreased since week 4. Finally, we demonstrated ultrastructural damage to mitochondria since week 4.
Conclusions
Our results would suggest an unprecedented link, possibly a regulatory mechanism, between WT-1 on nephrogenic alteration processes and their relationship with hypertension. Moreover, and previous to the increase in blood pressure, we demonstrated low expressions of WT-1, VDR and Hsp70 in kidneys from neonatal SHRs. If so, this may suggest that deregulation in the expression of WT-1 and its impact on nephrogenesis induction could be crucial in understanding the development and maintenance of hypertension.