01.04.2020 | Original Article | Ausgabe 5/2020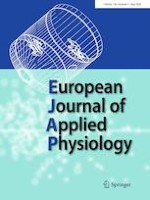 Changes in the quadriceps spinal reflex pathway after repeated sprint cycling are not influenced by ischemic preconditioning
Zeitschrift:
Autoren:

Paul W. Marshall, Stine Brock Rasmussen, Malene Krogh, Samuel Halley, Jason C. Siegler
Wichtige Hinweise
Communicated by Nicolas Place.
Publisher's Note
Springer Nature remains neutral with regard to jurisdictional claims in published maps and institutional affiliations.
Abstract
Purpose
We examined the effect of ischemic preconditioning (IPC) on changes in muscle force, activation, and the spinal reflex pathway during and after repeated sprint cycling.
Methods
Eight recreationally active men (high-intensity cardiorespiratory training > 3 times per week, > 6 months) completed two exercise sessions (5 sets of 5 cycling sprints, 150% max W), preceded by either IPC (3 × 5 min leg occlusions at 220 mmHg) or SHAM (3 × 5 min at 20 mmHg). Knee extensor maximal force and rate of force were measured before (PRE), immediately post (POST), 1H, and 24H after cycling. Twitch interpolation and resting potentiated twitches were applied to estimate voluntary activation and muscle contractility, respectively. Quadriceps H-reflex recruitment curves were collected at all time-points using 10 Hz doublet stimulation to allow estimation of H-reflex post-activation depression. Surface electromyograms and tissue oxygenation (via near-infrared spectroscopy) were continuously recorded during cycling.
Results
IPC did not affect any measure of neuromuscular function or performance during cycling. Maximal force and muscle contractility were significantly lower at POST and 1H compared to PRE and 24H by up to 50% (
p
 < 0.01). Maximal force was lower than PRE at 24H by 8.7% (
p
 = 0.028). Voluntary activation and rate of force were unchanged. A rightwards shift was observed for the H-reflex recruitment curve POST, and post-activation depression was higher than all other time-points at 24H (
p
 < 0.05). Muscle activation and oxygenation decreased during cycling.
Conclusions
IPC has a nominal effect on mechanisms associated with neuromuscular function during and after exercise in healthy populations.