07.02.2019 | Original Article | Ausgabe 4/2019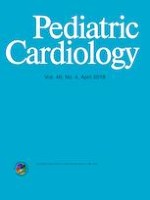 Characteristics and Outcomes of Heart Transplantation in DiGeorge Syndrome
Zeitschrift:
Autoren:

Peter Woolman, David W. Bearl, Jonathan H. Soslow, Debra A. Dodd, Cary Thurm, Matt Hall, Brian Feingold, Justin Godown
Wichtige Hinweise
Publisher's Note
Springer Nature remains neutral with regard to jurisdictional claims in published maps and institutional affiliations.
Abstract
DiGeorge syndrome (DGS) is commonly associated with both congenital heart disease (CHD) and immunologic abnormalities. While CHD may prompt consideration for heart transplantation (HTx), little is known about HTx management or outcomes in this group. The aim of this study was to describe the spectrum of patients with DGS who undergo HTx and report post-HTx outcomes. All pediatric HTx recipients (2002–2016) with DGS were identified using ICD codes from a linked billing and clinical registry database. Patient characteristics and outcomes were described and compared to non-DGS HTx recipients with CHD. Kaplan–Meier methods were used to assess overall survival, freedom from infection, and freedom from rejection. A total of 17 patients with DGS who underwent HTx at 12 different centers were included. Median age at HTx was 5 years (IQR 0–13 years). Steroids were used for induction in all patients in addition to thymoglobulin in 13/17 (76%) and IL2R antagonists in 3/17 (18%). Maintenance immunosuppression was a combination of tacrolimus or cyclosporine and mycophenolate or azathioprine in 16/17 (94%). Half received steroids at the time of discharge. There were six deaths (35%). The median post-HTx survival was 5.4 years with no difference in freedom from rejection, infection, or overall survival between patients with and without DGS. Patients with DGS undergoing HTx received standard immunosuppression. We found no difference in freedom from infection, rejection, or overall post-HTx survival compared to non-DGS patients, although the small size of our study resulted in limited statistical power. Given the potential for favorable outcomes, patients with DGS may be considered for HTx in the appropriate clinical setting.