01.12.2014 | Original Article | Ausgabe 6/2014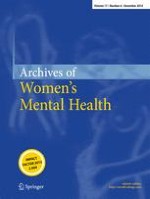 Characteristics and quality of life of opioid-dependent pregnant women in Austria
Zeitschrift:
Autoren:

Verena E. Metz, Sandra D. Comer, Johanna Wuerzl, Anna Pribasnig, Gabriele Fischer
Abstract
This study investigated pregnant opioid-dependent women undergoing maintenance therapy, applying a multidisciplinary, case-management approach at the Addiction Clinic of the Medical University of Vienna, Austria. It aimed at characterizing the patients' basic demographic and clinical parameters and evaluating their overall quality of life (QoL) prepartum and postpartum. Three hundred ninety women were treated between 1994 and 2009 with buprenorphine (
n
= 77), methadone (
n
= 184), or slow-release oral morphine (SROM) (
n
= 129) on an outpatient basis throughout their pregnancy and postpartum period. All patients were subject to standardized prepartum and postpartum medical and psychiatric assessments, including QoL assessments using a German adaptation of the Lancashire QoL Profile (Berliner Lebensqualitaetsprofil), and regular supervised urine toxicologies. No medication group differences were revealed regarding basic demographic or clinical data. Mean maintenance doses (SD) at time of delivery were as follows: 64 mg (36 mg) methadone, 10 mg (6 mg) buprenorphine, 455 mg (207 mg) SROM. However, buprenorphine-medicated women showed significantly less concomitant benzodiazepine consumption than methadone- or SROM-maintained women (
p
= 0.005), and significantly less concomitant opioid consumption than methadone-maintained women (
p
= 0.033) during the last trimester. Overall QoL was good prepartum and postpartum in all measured domains except "finances" and "prospect of staying in the same housing situation," and no differences were observed in QoL among the three medication groups (
p
= 0.177). QoL improved significantly after delivery in most of the domains (
p
< 0.001). Although opioid-dependent pregnant women face high-risk pregnancies and show variability in addiction severity, they report good QoL independent of the medication administered. These results show that individually tailored treatment interventions are effective for this patient population and suggest a QoL improvement after delivery.