01.12.2018 | Research article | Ausgabe 1/2018 Open Access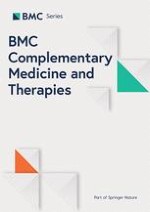 Characteristics and status of Korean medicine use in whiplash-associated disorder patients
Zeitschrift:
Autoren:

Nohyeon Kim, Byung-Cheul Shin, Joon-Shik Shin, Jinho Lee, Yoon Jae Lee, Me-riong Kim, Eui-Hyoung Hwang, Chan Yung Jung, Diana Ruan, In-Hyuk Ha
Abstract
Background
Patients are free to choose conventional or Korean medicine treatment under the dual medical system in Korea, and the prevalence of patients who choose Korean medicine treatment for whiplash-associated disorders (WADs) is high. This study analyzed the sociodemographic characteristics and medical service use in this population to provide healthcare providers with basic usage information of complementary and alternative medicine for WAD.
Methods
A total of 8291 outpatients who registered under automobile insurance coverage and visited the main branch of Jaseng Hospital of Korean Medicine from April 1, 2014 to August 10, 2016 were included. Data on sociodemographic characteristics, symptoms, and accident and treatment-related details were collected from electronic medical records. Univariate and multivariate regression analyses were performed to identify baseline factors predictive of total treatment duration.
Results
The most prevalent demographic of patients who chose Korean medicine for WAD treatment was males in their thirties whose initial visit to the hospital was 16.1 ± 94.1 days from the accident. Neck pain accompanied by low back pain (57.0%) was the most common complaint, and for singular pain, neck pain (13.5%) was the most prevalent. Baseline numeric rating scale (NRS) pain levels were generally moderate (4–6) regardless of area. Patients received 7.2 ± 10.2 sessions of treatment for 32.6 ± 55.3 days. The most commonly prescribed treatment modalities in order of highest frequency were acupuncture, cupping, pharmacopuncture, and herbal medicine, which collectively accounted for > 90% of treatments. Acupuncture was administered 29.0 ± 40.8 times, and cupping 14.0 ± 18.7 times as the two highest frequency treatments. In multivariate regression analysis, longer treatment periods were found to be associated with higher NRS, older age, and delayed initial visits at baseline.
Conclusions
This study highlights the characteristics and Korean medicine use of WAD patients. These results are particularly relevant and informative for consideration of personal preferences and effective prioritization in further insurance coverage.