01.12.2012 | Research | Ausgabe 1/2012 Open Access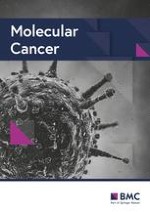 Characteristics of CD44 alternative splice pattern in the course of human colorectal adenocarcinoma progression
Zeitschrift:
Autoren:

Balázs Bánky, Lívia Rásó-Barnett, Tamás Barbai, József Tímár, Péter Becságh, Erzsébet Rásó
Wichtige Hinweise
Electronic supplementary material
The online version of this article (doi:
10.​1186/​1476-4598-11-83
) contains supplementary material, which is available to authorized users.
Balázs Bánky, Lívia Rásó-Barnett contributed equally to this work.
Competing interests
There is no competing interest affecting the authors.
Authors' contributions
BB and LRB designed and described CD44 ASP, complex experimental animal model system was deisgned by ER, isograft animal experiments, as well as spontaneous lung metastasis experimets were carried out by BT and RE, while orthotopic and colonization xenograft models were carried out by BB. TB and LRB participated in designing and performing qPCR studies, too. PB was performing next-generation sequencing on the basis of the experimental design of ER. Statistical assessment, interpretation of result data were led by ER and JT and performed by BB. Direct sequencing was carried out by TB and ER. ER and JT helped in drafting the manuscript. All authors read and approved the final manuscript.
Abstract
Background
CD44 is considered as 'a' metastasis associated gene, despite the fact that it is an umbrella term for a group of molecules produced from a single gene by alternative splicing. However, little consideration is given to the above in the literature of colorectal carcinomas as well as other tumour types, leading to confusion and contradictory results about its possible role in tumour progression.
Methods
We compared the CD44 alternative splice pattern (ASP) of three genetically different human colorectal cancer cell lines (HT25, HT29, HCT116) using a series of PCR reactions and next- generation sequencing method, as well as identified a colorectal adenocarcinoma specific CD44 ASP. This ASP was further investigated in terms of its qualitative and quantitative stability in our experimental iso- and xenograft mouse models for colorectal cancer progression. A complex preclinical experimental set-up was established to separately test the different steps of tumour progression and the role of tumour microenvironment, respectively, focusing on the role of 'CD44' in this process.
Results
We managed to present a colorectal cancer-specific CD44 ASP, which remained unchanged from cell lines throughout primary tumour formation and metastatic progression. Furthermore, we report a unique roster of all expressed CD44 variant isoforms characteristic to colorectal cancer. Finally, on quantitative assessment of the variable exons v3 and v6, higher co-expression levels were found to be characteristic to metastatically potent tumour cells.
Conclusion
Particular CD44 variant isoforms seem to act as "metastasis genes" via tumour microenvironment-driven shifts in v3 and v6 expressions. However, this function may just affect a minority of tumour subclones. This fact and the huge potential number of different CD44 splice variants that can contain v3 and v6 domains can explain incoherence of clinical studies regarding functional asessment of CD44 variants, as well as diminish the chances of using CD44 variants for predictive purpose.