30.06.2020 | Short Research Report | Ausgabe 4/2020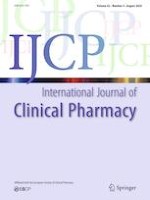 Characteristics of drug-related problems among hospitalized ischemic stroke patients in China
Zeitschrift:
Autoren:

Qingqing Chen, Zhao Jin, Ping Zhang, Shusen Sun, Ling Li, Yun Liao
Wichtige Hinweise
Publisher's Note
Springer Nature remains neutral with regard to jurisdictional claims in published maps and institutional affiliations.
Abstract
Background
Patients with ischemic stroke are often taking multiple medications and are at increased risk for drug-related problems (DRPs). However, the prevalence and nature of DRPs in these patients in China and the impact of pharmacist interventions to resolve DRPs in this population are unknown.
Objective
To investigate the prevalence and nature of DRPs in ischemic stroke patients.
Setting
A neurology ward at an academic teaching hospital in Shanghai, China.
Methods
This was a prospective observational study conducted from September to November 2017. A total of 274 ischemic stroke adult patients were included. Pharmacists provided pharmaceutical care activities in the multi-disciplinary team. DRPs were categorized by the Pharmaceutical Care Network Europe classification V8.0.
Main outcome measure
The number, types, and causes of DRPs.
Results
We identified 88 DRPs related to 89 causes, an average rate of 0.32 DRP per patient. The rates of DRPs were higher in patients with renal impairment (0.91), liver impairment (0.65), or patients younger than 60 years (0.39). The primary cause of the DRPs was drug selection (66.3%), and the most common problem was treatment safety (60.2%). Among the top medications associated with DRPs were proton pump inhibitors (17.2%) followed by cerebrovascular/nootropics (16.1%) and sedative-hypnotics (13.9%). The acceptance rate of pharmacists' inventions reached 94.0%, and 90.0% of these accepted inventions were fully implemented (DRP status solved).
Conclusion
Drug-related problems are relatively common in hospitalized ischemic stroke patients in China, and treatment safety is the major DRP type. Pharmacist intervention can identify and resolve pertinent DRPs to optimize medication therapy.