05.02.2018 | Original Research | Ausgabe 7/2018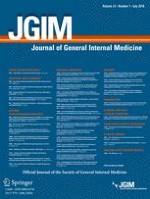 Characteristics of Patient-Centered Medical Home Initiatives that Generated Savings for Medicare: a Qualitative Multi-Case Analysis
Zeitschrift:
Autoren:

MPP Rachel A. Burton, MPP Nicole M. Lallemand, MPH Rebecca A. Peters, PhD Stephen Zuckerman, The MAPCP Demonstration Evaluation Team
Wichtige Hinweise
Electronic supplementary material
Abstract
Background
Through the Multi-Payer Advanced Primary Care Practice (MAPCP) Demonstration, Medicare, Medicaid, and private payers offered supplemental payments to 849 primary care practices that became patient-centered medical homes (PCMHs) in eight states; practices also received technical assistance and data reports. Average Medicare payments were capped at $10 per beneficiary per month in each state.
Objective
Since there was variation in the eight participating states' demonstration designs, experiences, and outcomes, we conducted a qualitative multi-case analysis to identify the key factors that differentiated states that were estimated to have generated net savings for Medicare from states that did not.
Participants
States' MAPCP Demonstration initiatives were comprehensively profiled in case studies based on secondary document review, three rounds of annual interviews with state staff, payers, practices, and other stakeholders, and other data sources.
Approach
Case study findings were summarized in a case-ordered predictor-outcome matrix, which identified the presence or absence of key demonstration design features and experiences and arrayed states based on the amount of net savings or losses they generated for Medicare. We then used this matrix to identify initiative features that were present in at least three of the four states that generated net savings and absent from at least three of the four states that did not generate savings.
Results
A majority of the states that generated net savings: required practices to be recognized PCMHs to enter the demonstration, did not allow late entrants into the demonstration, used a consistent demonstration payment model across participating payers, and offered practices opportunities to earn performance bonuses. Practices in states that generated net savings also tended to report receiving the demonstration payments and bonuses they expected to receive, without any issues.
Conclusions
Designers of future PCMH initiatives may increase their likelihood of generating net savings by incorporating the demonstration features we identified.