11.10.2016 | Research Article | Ausgabe 3/2017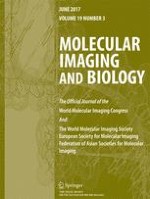 Characterization of "γ-Eye": a Low-Cost Benchtop Mouse-Sized Gamma Camera for Dynamic and Static Imaging Studies
Zeitschrift:
Autoren:

Maria Georgiou, Eleftherios Fysikopoulos, Konstantinos Mikropoulos, Eirini Fragogeorgi, George Loudos
Abstract
Purpose
Several preclinical imaging systems are commercially available, but their purchase and maintenance costs make them unaffordable for the majority of small- and medium-sized groups. Taking into account the needs of average users, we developed "γ-eye", a mouse-sized, benchtop γ-camera suitable for
in vivo
scintigraphic imaging.
Procedures
The γ-eye is based on two position-sensitive photomultiplier tubes, coupled to a CsI(Na) pixelated scintillator and a low-energy lead collimator with parallel hexagonal holes.
Results
The spatial resolution of the system is 2 mm at 0 mm. The energy resolution is 26 % at 140 keV and the maximum recorded sensitivity 210 cps/MBq. The system was evaluated in a proof-of-concept animal study, using three different clinical Tc-99m-labeled radiopharmaceuticals. Phantom and animal studies demonstrate its ability to provide semiquantitative results even for short scans.
Conclusions
Systems' performance, dimensions, and cost make γ-eye a unique solution for efficient whole-body mouse nuclear imaging.