01.09.2009 | Ausgabe 3/2009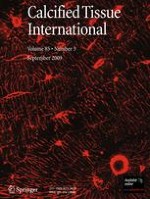 Characterization of Dystrophic Calcification Induced in Mice by Cardiotoxin
Zeitschrift:
Autoren:

Yongdong Zhao, Annette L. Urganus, Lyudmila Spevak, Sheela Shrestha, Stephen B. Doty, Adele L. Boskey, Lauren M. Pachman
Wichtige Hinweise
This work was presented partially at the American Society of Bone and Mineral Research Annual Conference 2007 and American College of Rheumatology Annual Conference 2007.
Abstract
Dystrophic calcifications often occur after injury, infection, or onset of certain rheumatic diseases. Treatment has been limited to surgical removal following failure of medical therapy. In an attempt to establish a reproducible animal model for dystrophic calcification that permitted the screening of potential interventions, we evaluated cardiotoxin (injury)-induced calcifications in three murine strains at both the cellular and ultrastructural levels. All osteopontin null mice and tumor necrosis factor receptor null mice on a C57B6 background had calcifications at days 3 and 7 after injury compared to 75% of wild-type C57B6 mice. There was no difference in mineral content among calcifications from the three mouse strains. Osteogenesis was suggested by the expression of osteocalcin, osterix, and alkaline phosphatase in calcified murine muscle tissue. Osteoclast-like cells facilitated the removal of transient dystrophic deposits (<28 days) in all models. However, none of the models showed an association of mineral crystals with collagen, suggesting that the deposits were not bone-like. The dystrophic mechanism was validated as cell death, and mitochondrial calcifications occurred soon after skeletal muscle injury in the three murine strains.