11.04.2018 | Brief Report | Ausgabe 8/2018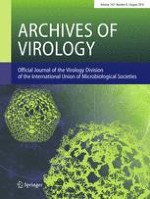 Characterization of HIV-1 subtypes and transmitted drug resistance among treatment-naive HIV-infected individuals in Zhejiang, China, 2014-2017
Zeitschrift:
Autoren:

Yufan Xu, Xiaorong Peng, Xiuming Peng, Shujing Ji, Bin Chen, Liyan Wang, Xiangyun Lu, Tiansheng Xie, Tao Sun, Hui Wang, Nanping Wu
Wichtige Hinweise
Electronic supplementary material
Abstract
In recent years, transmitted drug resistance (TDR) has adversely impacted upon first-line therapy for HIV-infected individuals. To understand the current subtype distribution and TDR level in Zhejiang, China we performed phylogenetic analysis and genotypic drug resistance testing of treatment-naive HIV-infected individuals. A total of 153 HIV-1
Pol
genes were successfully amplified. The distribution of HIV-1 genotypes was as follows: CRF01_AE (43.8%); CRF07_BC (37.9%); subtype B/B' (7.2%); CRF08_BC (5.2%); and others (5.9%). Drug resistance analysis demonstrated that 11.1% of isolates contained at least one NRTI or NNRTI resistance-associated mutations while 2.0% were identified to be resistant to PIs. These findings enhance our understanding of the genetic diversity of HIV-1 strains circulating in Zhejiang and provide some guidelines for HIV initial treatment therapy.