01.12.2018 | Research article | Ausgabe 1/2018 Open Access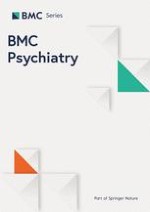 Characterizing the experience of agitation in patients with bipolar disorder and schizophrenia
Zeitschrift:
Autoren:

Jenna Roberts, Alfredo Gracia Canales, Sophee Blanthorn-Hazell, Anca Craciun Boldeanu, Davneet Judge
Wichtige Hinweise
Electronic supplementary material
Abstract
Background
Agitation is a common manifestation of bipolar disorder and schizophrenia which includes symptoms ranging from inner tension and unease to violence and aggression. Much of the existing literature has focused on agitation in the acute setting, with the patient experience poorly defined. Thus, the aim of this study was to characterize agitation and its management from a patient perspective, with the focus on those who reside in the community.
Methods
Surveys were completed across Germany, Spain and the UK by 583 community dwelling patients with schizophrenia or bipolar disorder who experienced episodes of agitation. Patients were recruited via either their physician or through patient support groups. The survey captured information on demographics, disease characteristics, frequency of agitation episodes and different pre-defined severity levels ranging from mild to severe, symptoms experienced during an episode, awareness of agitation and coping strategies employed by the patient. Statistics were descriptive in nature.
Results
The most commonly reported symptoms during an episode of agitation were feeling uneasy (
n
 = 373, 64%), restless (
n
 = 368, 63%) or nervous (n = 368, 63%). Patients experienced an average of 22.4 (SD 57.2) mild, 15.4 (SD 61.2) moderate, 6.8 (SD 63.3) moderate-intense and 2.9 (SD 24.4) severe episodes within the last 12 months; on average 2.7 (SD 6.8) required hospital attendance. Half of patients (
n
 = 313) had attended hospital due to agitation. In total, 71% of patients (
n
 = 412) were aware they were becoming agitated either always or sometimes and 61% of patients (
n
 = 347) were aware of agitation triggers either always or sometimes. The majority of patients reported being able to sometimes control their agitation (56%,
n
 = 329) but 16% (
n
 = 94) stated that there is typically nothing they can do. To cope with episodes 55% (
n
 = 125) of schizophrenia patients and 66% (
n
 = 234) of bipolar disorder patients reported taking prescribed medication.
Conclusion
Community based patients with schizophrenia and bipolar disorder reported frequently experiencing agitation episodes which they defined most commonly as feeling uneasy, restless or nervous. A range of coping strategies were reported but they were not always successful, highlighting an area of unmet need in this population.