14.11.2017 | Original Paper | Ausgabe 12/2017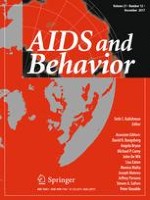 Characterizing the HIV Prevention and Care Continua in a Sample of Transgender Youth in the U.S.
Zeitschrift:
Autoren:

Sari L. Reisner, Laura Jadwin-Cakmak, Jaclyn M. White Hughto, Miguel Martinez, Liz Salomon, Gary W. Harper
Abstract
In the U.S., transgender and other gender minority (TG) youth are an at-risk group understudied in HIV prevention and treatment. This study sought to characterize the HIV prevention and care continua in a diverse sample of 181 sexually-active TG ages 16–24 years (mean age = 20.7 years; 76.8% trans feminine; 69.1% youth of color) recruited July–December 2015 in 14 U.S. cities. Overall, 30.9% reported living with HIV, of which 71.4% were on antiretroviral therapy (ART) and 55.0% were medication adherent; 65.6% were known to be virally suppressed. In multivariable models, medical gender affirmation was associated with lower odds of viral suppression. Medical gender affirmation and stigma in HIV care were each independently associated with elevated odds of having missed HIV care appointments. Among at-risk TG youth not living with HIV, only 8.2% had accessed pre-exposure prophylaxis (PrEP). Early biobehavioral prevention and treatment interventions are needed for TG youth.