01.12.2015 | Research article | Ausgabe 1/2015 Open Access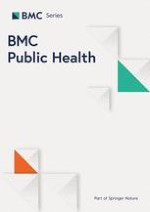 Charting the evolution of approaches employed by the Global Alliance for Vaccines and Immunizations (GAVI) to address inequities in access to immunization: a systematic qualitative review of GAVI policies, strategies and resource allocation mechanisms through an equity lens (1999–2014)
Zeitschrift:
Autor:

Gian Gandhi
Wichtige Hinweise
Electronic supplementary material
The online version of this article (doi:
10.​1186/​s12889-015-2521-8
) contains supplementary material, which is available to authorized users.
Competing interests
No funding has been received for this piece of work. The author worked at the GAVI Secretariat from 2008 until the end of 2010 serving as Head of Policy Development. During that time, he led efforts to develop/revise most of GAVI's policies and strategies that were implemented during GAVI's third phase of operations (notably eligibility, co-financing, graduation, program prioritization, and vaccine donation policies, and supply and procurement strategy). Since 2010, the author has worked for the UNICEF—one of the founding member institutions of the GAVI Alliance. From January 2012 through December 2014, the author served as Special Adviser to the Vice Chair of the GAVI Alliance Board, based in UNICEF Headquarters in a position that was funded by the GAVI Alliance. The views expressed in this article are those of the author and do not represent the views of, and should not be attributed to UNICEF, the Vice Chair of the GAVI Alliance Board (2012–2014), or the GAVI Secretariat.
Authors' contributions
The author read and approved the final manuscript.
Abstract
Background
GAVI's focus on reducing inequities in access to vaccines, immunization, and GAVI funds, − both between and within countries - has changed over time. This paper charts that evolution.
Methods
A systematic qualitative review was conducted by searching PubMed, Google Scholar and direct review of available GAVI Board papers, policies, and program guidelines. Documents were included if they described or evaluated GAVI policies, strategies, or programs and discussed equity of access to vaccines, utilization of immunization services, or GAVI funds in countries currently or previously eligible for GAVI support. Findings were grouped thematically, categorized into time periods covering GAVI's phases of operations, and assessed depending on whether the approaches mediated equity of opportunity or equity of outcomes between or within countries.
Results
Serches yielded 2816 documents for assessment. After pre-screening and removal of duplicates, 552 documents underwent detailed evaluation and pertinent information was extracted from 188 unique documents. As a global funding mechanism, GAVI responded rationally to a semi-fixed funding constraint by focusing on between-country equity in allocation of resources. GAVI's predominant focus and documented successes have been in addressing between-country inequities in access to vaccines comparing lower income (GAVI-eligible) countries with higher income (ineligible) countries. GAVI has had mixed results at addressing between-country inequities in utilization of immunization services, and has only more recently put greater emphasis and resources towards addressing within-country inequities in utilization to immunization services. Over time, GAVI has progressively added vaccines to its portfolio. This expansion should have addressed inter-country, inter-regional, inter-generational and gender inequities in disease burden, however, evidence is scant with respect to final outcomes.
Conclusion
In its next phase of operations, the Alliance can continue to demonstrate its strength as a highly effective multi-partner enterprise, capable of learning and innovating in a world that has changed much since its inception. By building on its successes, developing more coherent and consistent approaches to address inequities between and within countries and by monitoring progress and outcomes, GAVI is well-positioned to bring the benefits of vaccination to previously unreached and underserved communities towards provision of universal health coverage.