01.12.2017 | Review | Ausgabe 1/2017 Open Access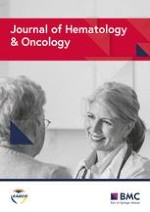 Checkpoint inhibitors in hematological malignancies
Zeitschrift:
Autoren:

Chi Young Ok, Ken H. Young
Abbreviations
ALK
Anaplastic lymphoma kinase
BAT3
HLA-B associated transcript 3
BTLA
B- and T-lymphocyte attenuator
CDK4
Cyclin-dependent kinase 4
CDK6
Cyclin-dependent kinase 6
CHL
Classical Hodgkin lymphoma
CTLA-4
Cytotoxic T-lymphocyte antigen-4
DLBCL, NOS
Diffuse large B-cell lymphoma, not otherwise specified
ELISA
Enzyme-linked immunosorbent assay
ERK
Extracellular signal-regulated kinase-1
FDA
US Food and Drug Administration
GCB
Germinal center B cell-like
GM-CSF
Granulocyte macrophage colony-stimulating factor
HAVCR2
Hepatitis A virus cellular receptor 2
HMGB1
High mobility group protein B1
ITIM
Immune receptor tyrosine-based inhibitory motif
ITSM
Immunoreceptor tyrosine-based switch motif
JAK/STAT
Janus kinase/signal transducer and activator of transcription
JNK
c-Jun NH2-terminal kinase
LAG-3
Lymphocyte activation gene 3
LMP1
EBV latent membrane protein 1
LSECtin
Liver and lymph node sinusoidal endothelial cell C-type lectin
MAPK
Microtubule-associated protein kinase
MF/SS
Mycosis fungoides/Sézary syndrome
MGUS
Monoclonal gammopathy of undetermined significance
MHC
Major histocompatibility complex
NFAT
Nuclear factor of activated T cells
PCNSL
Primary central nervous system lymphoma
PD-L1
Programmed death ligand-1
PD-L2
Programmed death ligand-2
PFS
Progression-free survival
PI3K
Phosphatidylinositol 3-kinase
PMBL
Primary mediastinal large B-cell lymphoma
PTL
Primary testicular lymphoma
Q-PCR
Quantitative polymerase chain reaction
SHP
Src homology 2 domain-containing phosphatase
TCHRBCL
T cell rich, histiocyte-rich large B cell lymphoma
TGF-β
Transforming growth factor beta
TIGIT
T cell immunoreceptor with immunoglobulin and ITIM domains
TIL
Tumor-infiltrating lymphocyte
TIM-3
T cell immunoglobulin and mucin domain-containing protein-3
ZAP70
Zeta-chain-associated protein kinase 70
Background
The hallmarks of cancer are constant proliferative signaling, evasion of growth suppressors, resistance to cell death, replicative immortality, induction of angiogenesis and activating invasion, and metastasis [
1
]. The dysregulated cellular processes in cancer cells are in tandem with accumulation of variable genetic alterations and consequent expression of tumor neoantigens which are not present in normal cells [
2
]. In ideal state, immune cells recognize these new antigens and kill the cancer cells. The whole process is elegantly explained by Chen and Mellman with the concept of the cancer-immunity cycle, which consists of several steps [
3
]. Firstly, dissemination of cancer neoantigens to tumor microenvironment (TME) occurs following cancer cell death (step 1). Afterwards, the released cancer neoantigens are captured and processed by antigen presenting cells, i.e., dendritic cells, where the processed neoantigens are presented as a complex with major histocompatibility complex (MHC) I or II molecules (step 2). The following step is priming and activation of effector T cell against the cancer neoantigens (step 3). Owing to higher density of antigen presenting cells in lymphoid organs, the second and third steps mostly occur in peripheral lymphoid organs. Following the priming and activation, the activated effector T cells then migrate to the tumor site via blood vessels (step 4). When the activated effector T cells arrive in the vicinity of the tumor site, they pass through endothelial cells and infiltrate the tumor microenvironment (step 5). Once successfully infiltrated, the activated effector T cells bind cancer cells recognizing cancer neoantigens presented on MHC I molecule (step 6). Finally, the activated effector T cells induce apoptosis of the cancer cells by releasing cytotoxic molecules including granzyme or perforin via Fas-Fas ligand interaction (step 7). Oftentimes, cancer cells or immunosuppressive cells in the TME provide immune inhibitory signals lest effector T cells function properly.
In the context of the cancer-immunity cycle, checkpoint inhibitors aim to reset or reinstate dysfunctional effector T cells. Clinical studies using checkpoint inhibitors have shown significant responses in various cancers [
4
–
7
]. In this review, we discuss biology of immune inhibitory molecules, their roles in hematological cancers, different types of checkpoint inhibitors, clinical trials on patients with hematologic cancers, and search for biomarkers in checkpoint inhibitor therapy.
Maint text
Conclusions
Inhibitory molecules such as PD-1, CTLA-4, LAG-3, or TIM-3 play a role to keep a balance in immune function. However, many cancers exploit such molecules to escape immune surveillance. Accumulating data support that their functions are dysregulated in lymphoid neoplasms, plasma cell myeloma, myelodysplastic syndrome, and acute myeloid leukemia. Clinical trials demonstrated that PD-1 blockade is an attractive way to reinstate host's immune function in lymphoid neoplasms, particularly classical Hodgkin lymphoma. PD-1 blockade as a single therapy or in combination with other immune checkpoint inhibitors are explored in other hematologic cancers. Of note, not all patients respond to immune checkpoint inhibitors. Therefore, the need to identify best candidates who would have excellent response to checkpoint inhibitors is high. Several possible biomarkers are available, but consensus has not been made and pursuit to discover the best biomarker is ongoing.
Acknowledgements
CYO is supported by The University of Texas MD Anderson Cancer Center Institutional Research and Development Fund, an Institutional Research Grant Award. The work was partially supported by the National Cancer Institute/National Institutes of Health (R01CA138688 and 1RC1CA146299) and by MD Anderson's Cancer Center Support Grant CA016672.
Funding
There was no funding involved in this study.
Availability of data and materials
This is not applicable.
Authors' contributions
CYO and KHY reviewed available literature and wrote the manuscript. Both authors read and approved the final manuscript.
Competing interests
The authors declare that they have no competing interests.
Consent for publication
This is not applicable.
Ethics approval and consent to participate
This is not applicable.
Publisher's Note
Springer Nature remains neutral with regard to jurisdictional claims in published maps and institutional affiliations.
Open Access
This article is distributed under the terms of the Creative Commons Attribution 4.0 International License (
http://​creativecommons.​org/​licenses/​by/​4.​0/​
), which permits unrestricted use, distribution, and reproduction in any medium, provided you give appropriate credit to the original author(s) and the source, provide a link to the Creative Commons license, and indicate if changes were made. The Creative Commons Public Domain Dedication waiver (
http://​creativecommons.​org/​publicdomain/​zero/​1.​0/​
) applies to the data made available in this article, unless otherwise stated.