27.02.2019 | Breast Oncology | Ausgabe 7/2019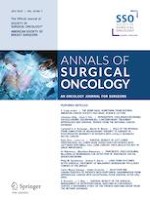 Chemoprevention Uptake for Breast Cancer Risk Reduction Varies by Risk Factor
Zeitschrift:
Autoren:

MD, MPH Meghan R. Flanagan, DrPH Emily C. Zabor, MPH Michelle Stempel, DO Debra A. Mangino, MD Monica Morrow, MD Melissa L. Pilewskie
Wichtige Hinweise
Publisher's Note
Springer Nature remains neutral with regard to jurisdictional claims in published maps and institutional affiliations.
Abstract
Background/Objective
The efficacy of chemoprevention for breast cancer risk reduction has been demonstrated in randomized controlled trials; however, use remains low. We sought to determine whether uptake differed by risk factors, and to identify reasons for refusal and termination.
Methods
Women seen in a high-risk clinic from October 2014 to June 2017 considered eligible for chemoprevention (history of lobular carcinoma in situ, atypia, family history of breast/ovarian cancer, genetic mutation, or history of chest wall radiation) were retrospectively identified. Breast cancer risk factors were compared among those with and without chemoprevention use, and compliance was noted.
Results
Overall, 1506 women were identified, 24% with prior/current chemoprevention use. Women ≥ 50 years of age were more likely to use chemoprevention than women < 50 years of age (28% vs. 11%,
p 
< 0.001). Chemoprevention use by risk factor ranged from 7 to 40%. Having multiple risk factors did not increase use. Significant variation by risk factor was present among women ≥ 50 years of age (
p
 < 0.001), but not among women < 50 years of age (
p
 = 0.1). Among women with a documented discussion regarding chemoprevention (575/1141), fear of adverse effects was the most common refusal reason (57/156; 36%). The majority of women (61%) who initiated chemoprevention completed 5 years.
Conclusion
Chemoprevention use among women at increased risk for breast cancer remains low, with more frequent use among women ≥ 50 years of age. These data highlight the need for ongoing educational efforts and counseling, as the majority who begin therapy complete 5 years of use. Given the fear of adverse effects as well as low uptake, particularly among women < 50 years of age, alternative risk-reducing strategies are needed.