01.12.2018 | Research | Ausgabe 1/2018 Open Access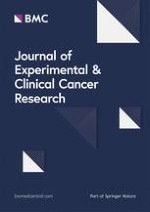 Chibby suppresses aerobic glycolysis and proliferation of nasopharyngeal carcinoma via the Wnt/β-catenin-Lin28/let7-PDK1 cascade
Zeitschrift:
Autoren:

Cheng-fu Cai, Guo-dong Ye, Dong-yan Shen, Wei Zhang, Mao-li Chen, Xin-xin Chen, Da-xiong Han, Yan-jun Mi, Qi-cong Luo, Wang-yu Cai, Shu-yu Yang
Wichtige Hinweise
Electronic supplementary material
Abstract
Background
Great progress has been achieved in the study of the aerobic glycolysis or the so-called Warburg effect in a variety of cancers; however, the regulation of the Warburg effect in Nasopharyngeal carcinoma (NPC) has not been completely defined.
Methods
Gene expression pattern of NPC cells were used to test associations between Chibby and β-catenin expression. Chibby siRNAs and over-expression vector were transfected into NPC cells to down-regulate or up-regulate Chibby expression. Loss- and gain-of function assays were performed to investigate the role of Chibby in NPC cells. Western blot, cell proliferation, Glucose uptake, Lactate release, ATP level, and O2 consumption assays were used to determine the mechanism of Chibby regulation of underlying targets. Finally, immunohistochemistry assay of fresh NPC and nasopharyngeal normal tissue sample were used to detect the expression of Chibby, β-Catenin, and PDK1 by immunostaining.
Results
We observed that Chibby, a β-catenin-associated antagonist, is down-regulated in nasopharyngeal carcinoma cell lines and inhibits Wnt/β-Catenin signaling induced Warburg effect. Mechanism study revealed that Chibby regulates aerobic glycolysis in NPC cells through pyruvate dehydrogenase kinase 1(PDK1), an important enzyme involved in glucose metabolism. Moreover, Chibby suppresses aerobic glycolysis of NPC via Wnt/β-Catenin-Lin28/let7-PDK1 cascade. Chibby and PDK1 are critical for Wnt/β-Catenin signaling induced NPC cell proliferation both in vitro and in vivo. Finally, immunostaining assay of tissue samples provides an important clinical relevance among Chibby, Wnt/β-Catenin signaling and PDK1.
Conclusions
Our study reveals an association between Chibby expression and cancer aerobic glycolysis, which highlights the importance of Wnt/β-catenin pathway in regulation of energy metabolism of NPC. These results indicate that Chibby and PDK1 are the potential target for NPC treatment.