01.12.2018 | Research article | Ausgabe 1/2018 Open Access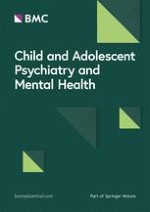 Childhood ADHD and treatment outcome: the role of maternal functioning
Zeitschrift:
Autoren:

Pernille Darling Rasmussen, Ole Jakob Storebø, Yael Shmueli-Goetz, Anders Bo Bojesen, Erik Simonsen, Niels Bilenberg
Wichtige Hinweise
Electronic supplementary material
Abbreviations
ADHD
attention deficit hyperactivity disorder
AAI
Adult Attachment Interview
ASRS-1.1
Adult ADHD Self-Report Scale
ECR
Experiences in Close Relationships Questionnaire
ECR-R
The Experiences in Close Relationships Scale—Revised
RSA
Resilience Scale for Adults
ODD
oppositional defiance disorder
Background
Attention deficit hyperactivity disorder (ADHD) is the most commonly occurring neurodevelopmental disorder in childhood with a prevalence ranging from 3 to 5% and symptoms often continuing into adulthood [
1
]. It is characterized by a number of core symptoms including inattention, hyperactivity and impulsivity [
2
]. Both the DSM-5 and ICD-10 criteria require excessive inattention, hyperactivity, and impulsivity to be inconsistent with the developmental level and to be pervasive [
3
,
4
]. According to the DSM-5 three presentations of ADHD, differentiated on the basis of symptom load, are commonly referred to: combined-type, inattentive-type and hyperactive/impulsive-type. For a formal diagnosis, the symptoms have to be present for at least 6 months and result in impairment in more than one setting before the age of 6 (ICD-10) or 12 (DSM-5) (WHO 1992, [
4
]).
Maternal ADHD, attachment style, and resilience
The etiology of ADHD is multifactorial, as both genetic and environmental factors have been evidenced in the development of ADHD [
5
,
6
]. For example, a relative with ADHD [
7
], an increase in Copy Number Variation (CNV, [
8
]), prematurity [
9
] and some form of neglect (Thapar et al. 2012) have all been implicated. Moreover, numerous studies have found ADHD to be associated with a poor prognosis (e.g. more divorces, higher rates of substance abuse disorders in adulthood, and increased mortality rate) [
11
–
13
]. Furthermore, the prognosis of ADHD worsens in the presence of comorbidity [
11
,
14
]. Parent and child ADHD are found to be significantly associated, as well as parent and child conduct problems [
15
]. However, factors associated with the developmental progression and the long-term prognosis of ADHD are not fully understood [
15
–
17
] and hence, a greater focus on the developmental progression of ADHD is required. Whereas studies converge in proposing that parental psychopathology poses a high risk of transmission to offspring, relatively little is known about the role of maternal functioning in terms of attention deficit hyperactivity disorder (ADHD) symptoms, attachment style and resilience as predictive factors for treatment outcome when offspring are diagnosed with ADHD.
Maternal ADHD may be a potential risk factor in the development of offspring ADHD [
18
–
21
]. Moreover, in a recent study on associations between parental psychiatric disorders and offspring ADHD, maternal diagnosis showed stronger associations with child ADHD than paternal diagnosis [
22
]. Despite research establishing a link specifically between parental ADHD and parenting, measured as the level of home chaos, and parenting practices assessed through self-reports [
23
], to date there have been no studies investigating the role of maternal ADHD symptomatology as a prognostic factor in offspring treatment outcome.
In addition to the contribution of maternal ADHD symptoms to the increased risk of offspring developing ADHD, the quality of the mother–child relationship has also come under scrutiny. Indeed, both ADHD and attachment have been proposed as risk factors [
24
]. Reviewing the literature on ADHD and attachment, we found a clear association between ADHD and insecure attachment. When one condition was present, this increased the risk of developing the other. This underlines that ADHD and insecure attachment may constitute mutual risk factors [
25
]. In a recent comprehensive review of parental self-reported attachment style and caregiving, adult attachment security was consistently associated with more positive parenting whereas insecurity was related to more negative parenting [
26
]. These findings underscore the importance of investigating maternal ADHD-symptoms and attachment style as part of a broad assessment of maternal functioning. Alongside the contribution of adult attachment to maternal functioning, a growing body of research suggests that resilience is also a key factor, with greater resilience associated with psychological adaptation and functioning in the face of adversity [
27
–
29
]. Broadly, resilience theory focuses on understanding healthy development in the face of risk, and on strengths as opposed to weaknesses. It has been defined as a "pattern of positive adaptation in the context of past or present adversity" [
30
]. Critically, resilience does not suggest the absence of adversity or risk, but rather highlights the presence of protective processes leading to healthy adaptation. Whilst definitions and measurement of resilience vary considerably from study to study and the scientific value of the concept generally has been debated and challenged [
31
] resilience has been found to influence treatment response across different manifestations of adversity. These include chronic illness, psychiatric disorders and school bullying [
32
,
33
].
In this study, the focus is on the significance of maternal resilience for parenting in situations where the child needs extra support.
The current study
The aim of the present study was to examine associations between mothers' functioning and treatment response in their children diagnosed with ADHD who are receiving care as usual.
We hypothesized that maternal self-reported ADHD symptoms; self-reported attachment style and maternal resilience would all be significantly correlated with treatment outcome. More specifically, we anticipated the following; (1) higher maternal ADHD-symptom scores would be associated with lower ADHD symptom reduction in offspring within the first year of treatment. (2) Higher scores for self-reported anxiety or ambivalence on the attachment style questionnaire are associated with lesser symptom reduction in offspring. (3) A higher degree of self-reported maternal resilience is associated with better treatment response in offspring diagnosed with ADHD.
Methods
The current study was part of a naturalistic observational study exploring different aspects of maternal functioning expected to influence treatment response in children diagnosed with ADHD.
Participants
The families participating were recruited from two child psychiatric outpatient clinics in Region Zealand, Denmark. The four interviewers participating were the same at the two sites; two conducting maternal attachment interviews and two conducting child attachment interviews. Sixty-seven (N = 67) child-mother dyads were included in the follow up.
Of the 67 mothers, 64 (95.5%) provided adequate responses on the baseline questionnaires to include for analysis. Three dyads were excluded from the analysis as they had not responded to all the questions. Age, gender distribution and the diagnoses of the children, along with other sample characteristics of parents and children can be seen in Table
1
a and b. The mean age was 9.1 years, with children ranging in age from 7 to 12 years. A large proportion of the children came from one-parent households (53%) with the rest living together with both biological parents. Fifty-four (84.4%) responders reported a history of psychiatric illness in parents, siblings or grandparents. The children received
Care as usual
according to national guidelines [
34
]. At 3 months follow up, 43.8% of the children received medical treatment increasing to 70.3% at 6 months follow up, and 71.9% at 9 and 73.4% 12 months follow up. There were no reports of children dropping out of treatment during the 1-year follow up.
Table 1
(a) Child characteristics, (b) family characteristics
n

%

a

Gender

Male

46

71.88

Female

18

28.13

Age at baseline—mean (SD) = 9.1 (1.3)

ADHD subtype

Combined type

50

78.1

Inattentive type

14

21.9

Comorbidity

None

51

79.7

Oppositional defiance disorder

5

7.8

Autism spectrum

4

6.3

Other

4

6.3

b

Parent job status

Unemployed

15

23.4

Employed or student

42

65.6

No information

7

10.9

Household type

Nuclear family

30

46.9

Split family

34

53.1

Psychiatric history

No

9

14.1

Yes

54

84.4

No information

1

1.6
Measures
Results
In the follow up sequence, 92.2% (N = 59) had a maximum of one missed self-report.
Whilst all fathers were invited to participate and all consented to do so, only a minority actually completed the questionnaires (22.4%). Consequently, the paternal response rate was too low to include for further analysis. Complete information from all planned assessments was obtained for 62.5% (N = 40) of the children. Two children were only measured twice from baseline to the 12 month follow up. Table
2
presents the descriptive results, including means, standard deviations and number of observations for ECR, RSA and ASRS as well as ADHD-RS at baseline, follow up and the overall ADHD-RS reduction as predicted in a random effects regression. Correlations are provided in Additional file
1
: Table S1. ADHD-RS was on average reduced by 12.15 points as predicted in the random effects regression. The mean ADHD-RS at baseline was 43.1 and reduced to 30.25 one year after initiating treatment.
Predicting ADHD-RS reductions
The following demographic variables were included in the analysis: gender, age, family history of mental illness and whether the child is living in a one or two parent household. A binary indicator of medical treatment and the number of non-attendances were also included as covariates. Table
3
show regression estimates for the association between maternal ECR, RSA, ASRS and the change in child ADHD-RS over the 12 months of follow up. Adjusted and unadjusted results are shown. The negative association between RSA and the outcome (b = − 1.76; 95% CI − 3.45, − 0.07) suggests that a higher degree of maternal resilience is associated with larger reductions in child ADHD-RS during treatment. The significant association between maternal ASRS and child ADHD-RS (b = 3.48; 95% CI 1.76,5.20) suggests that children of mothers scoring higher on ADHD symptoms achieved a more modest treatment effect than children of mothers scoring lower on ADHD symptoms. There was no significant association between maternal ECR and the change in child ADHD-RS. The coefficients correspond to the predicted absolute change in ADHD-RS from baseline to 12 months follow up when ECR, RSA or ASRS increase by one standard deviation.
Table 3
Overall ADHD-RS reduction predicted by ECR, RSA and ASRS
Crude

Adjusted

b

95% CI

b

95% CI

ECR

− 1.68

[− 3.38, 0.02]

− 1.18

[− 2.91, 0.55]

RSA

− 1.98

[− 3.66, − 0.31]*

− 1.76

[− 3.45, − 0.07]*

ASRS

3.44

[1.78, 5.10]***

3.48

[1.76, 5.20]***

Control variables

Female (ref. male)

0.30

[− 3.06, 3.66]

Age at baseline

− 0.29

[− 1.55, 0.98]

Split family (ref. nuclear)

0.09

[− 2.88,3.07]

In medical treatment (ref. not)

− 5.32

[− 8.79, − 1.84]**

Psych. disp. (no psych. Disp.)

− 1.21

[− 5.71,3.29]

Missed out follow ups

0.30

[− 1.86,2.46]
Discussion
The current study was undertaken with the broad aim of attempting to shed further light on the role of maternal functioning in the treatment response of children diagnosed with ADHD. Informed by the literature and existing empirical findings we chose to evaluate three domains of potential importance in maternal functioning: self-reported ADHD symptoms, self-reported attachment style and degree of resilience. A sample of sixty-seven mother–child dyads with ADHD-diagnosed children was recruited. The children and families received care as usual, and treatment response was evaluated in terms of ADHD symptom-load measured at 3 monthly intervals over a 1-year period. We anticipated that all three maternal functioning factors would correlate with treatment response, independent of treatment strategy.
The findings suggested a significant association between maternal self-reported ADHD symptoms and treatment outcome, measured by a reduction in children's reported ADHD symptoms. Thus, mothers scoring high on ADHD symptoms had children who showed a lower reduction in ADHD symptoms at the 12 months' follow up.
Contrary to expectations, we found no significant correlation between maternal self-reported attachment style on the ECR and child outcome on the ADHD-RS.
Lastly and in line with our prediction, we found a negative association between maternal resilience as measured by the RSA and offspring treatment response on the ADHD-RS. This suggested that a higher degree of resilience in mothers was associated with greater symptom-reduction in their children receiving care as usual.
Conclusion
Taken together, our findings suggest that risk factors as well as protective factors in maternal functioning have an impact on treatment outcome in children with ADHD. This underlines the potential value of a broader assessment of maternal functioning, including screening of mothers for ADHD symptoms. This would permit the identification of parents with unmet needs for treatment and support, which might in turn lead to a better prognosis for their children. On the other hand, a greater focus on protective factors such as maternal resilience may be no less important in differentiating the subgroups of families who are at less of an immediate risk and who may therefore require less support and intervention.
Authors' contributions
The corresponding author, PD, was responsible for data collection and drafting the first manuscript. AB analyzed and interpreted the data in collaboration with PD. All co-authors (AB, OS, ES, YS and NB) made substantial contributions to critical revision of the first draft for key intellectual content, and have given their final approval for the version to be published. All authors read and approved the final manuscript.
Acknowledgements
Not applicable.
Competing interests
The authors declare that they have no competing interests.
Availability of data and materials
The datasets used and/or analyzed during the study are available from the corresponding author on reasonable request.
Consent for publication
Not applicable.
Ethics approval and consent to participate
Not applicable.
Funding
The research was funded by Region Zealand Research Foundation, Grant Nb: 15-000342 and Department of Child and Adolescent Psychiatry, Region Zealand.
Publisher's Note
Springer Nature remains neutral with regard to jurisdictional claims in published maps and institutional affiliations.
Open Access
This article is distributed under the terms of the Creative Commons Attribution 4.0 International License (
http://​creativecommons.​org/​licenses/​by/​4.​0/​
), which permits unrestricted use, distribution, and reproduction in any medium, provided you give appropriate credit to the original author(s) and the source, provide a link to the Creative Commons license, and indicate if changes were made. The Creative Commons Public Domain Dedication waiver (
http://​creativecommons.​org/​publicdomain/​zero/​1.​0/​
) applies to the data made available in this article, unless otherwise stated.