01.12.2018 | Research | Ausgabe 1/2018 Open Access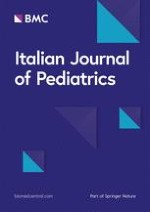 Children with premature pubarche: is an alterated neonatal 17-Ohp screening test a predictive factor?
Zeitschrift:
Autoren:

Paolo Cavarzere, Margherita Mauro, Monica Vincenzi, Silvana Lauriola, Francesca Teofoli, Rossella Gaudino, Diego Alberto Ramaroli, Rocco Micciolo, Marta Camilot, Franco Antoniazzi
Abstract
Background
Neonatal screening for 21 hydroxylase deficiency is designed to detect classical form of congenital adrenal hyperplasia (CAH). It is still unclear whether newborns who result false positives at neonatal screening might later develop signs of androgen excess. The aim of this study is to verify whether a slightly elevated 17-OHP at newborn screening is a predictive factor for premature pubarche.
Methods
We evaluated all infants born between 2001 and 2014 with premature pubarche. In case of increased bone age, they were submitted to functional tests to find out the cause of their symptoms. Their 17-OHP values at newborn screening for CAH were reconsidered.
Results
We identified 330 patients (269 females, 61 males) with premature pubarche. All these children had a normal 17-OHP at newborn screening with the exception of a child, born preterm and not affected by CAH.
Conclusions
An elevated 17-OHP at newborn screening is not a predictive factor for premature pubarche. A likely cause of increased 17-OHP level at screening is an immaturity of adrenal gland or a neonatal stress. Therefore a strict follow up of these neonates during childhood is not necessary.