01.12.2017 | Review | Ausgabe 1/2017 Open Access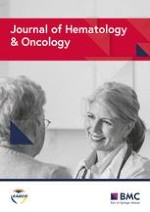 Chimeric antigen receptor T cells: a novel therapy for solid tumors
Zeitschrift:
Autoren:

Shengnan Yu, Anping Li, Qian Liu, Tengfei Li, Xun Yuan, Xinwei Han, Kongming Wu
Abbreviations
ACT
Adoptive cellular therapy
AICD
Antigen-induced cell death
ALL
Acute lymphoblastic leukemia
ASGR1
Asialoglycoprotein receptor 1
CARs
Chimeric antigen receptors
CLL
Chronic lymphocytic leukemia
EGFR
Epidermal growth factor receptor
EGFRvIII
Type III variant epidermal growth factor receptor
FDA
Food and Drug Administration
HAMA
Human anti-mouse antibody
HER2
Human epidermal growth factor receptor2
HNSCC
Head and neck squamous cell carcinoma
ITAMs
Immunoreceptor tyrosine-based activation motifs
MHC
Major histocompatibility complex
MPM
Malignant pleural mesothelioma
NCI
National Cancer Institute
PSMA
Prostate-specific membrane antigen
scFv
Single-chain variable fragment
SCID
Severe combined immune deficiency
TAAs
Tumor-associated antigens
TILs
Tumor-infiltrating lymphocytes
TKIs
Tyrosine kinase inhibitors
TRUCK
T cells redirected for universal cytokine killing
Background
Over a century, immunology has been employed to treat malignant tumors, such as monoclonal antibody (mAb), bispecific antibody, tumor vaccine, immune checkpoint blockade, cytokine-induced killer (CIKs), tumor-infiltrating lymphocytes (TILs), and most recently chimeric antigen receptor T (CAR-T) [
1
]. Application of monoclonal antibodies (Herceptin, cetuximab) in malignant tumor patients showed a satisfying response rate. Immune checkpoint blockades are emerging immunotherapies against tumors. Pembrolizumab, nivolumab (anti-PD-1mAb), and ipilimumab (anti-CTLA-4mAb), which are representative immune checkpoint blocking agent, have been approved by the Food and Drug Administration (FDA) for melanoma patients, as either initial therapy or after relapse [
2
]. The CAR-T-based immunotherapy has achieved significant progress in malignant hematological diseases. CARs are synthetic receptors consisting of extracellular single-chain variable fragment (scFv), transmembrane domain, and intracellular part of immunoreceptor tyrosine-based activation motifs (ITAMs) and co-stimulatory signal (Fig.
1
) [
3
]. The scFv is responsible for recognizing and binding to tumor-associated antigens (TAAs) expressed on the tumor cell surface. The endodomain plays a pivotal role in T cell activation, proliferation, persistence, and cytotoxicity. The structure of CAR is similar to T cell receptor (TCR), but the scFv of CAR recognizes TAAs independent of major histocompatibility complex (MHC) and targets a variety of antigens expressed on the surface of the tumor cell, including proteins, carbohydrates, and gangliosides (Fig.
1
) [
4
,
5
]. The first generation of CARs merely includes activation signal CD3 zeta chain (CD3ζ) or Fc receptor γ (FcRγ) in intracellular motif, thus inducing transient T cell activation [
6
]. The second and third generation of CARs including one activation domain and one or more costimulatory domains (CD28, 4-1BB, or OX40) were developed and contributed to the expansion, prolonged antitumor activity, and cytokine secretion (such as IL-2, TNFα, and IFN-γ) of T cell (Fig.
1
) [
7
,
8
]. Currently, anti-CD19 CAR-T cells were demonstrated to be effective in the treatment of B cell non-Hodgkin lymphoma (NHL), acute lymphoblastic leukemia (ALL), and chronic lymphocytic leukemia (CLL) [
9
–
13
]. Anti-CD116 has been developed for treating myelomonocytic leukemia [
14
].
×
Adoptive cellular therapy (ACT) using CAR-T cells is also a novel way for the treatment of other malignant tumors [
15
]. In solid tumors, epidermal growth factor receptor (EGFR), human epidermal growth factor receptor2 (HER2), carcinoembryonic antigen (CEA), disialoganglioside 2 (GD2), mesothelin, prostate-specific membrane antigen (PSMA), and interleukin-13Ra2 (IL13Ra2) are known as the targets of CAR-T cells. We summarized the current CAR-T cell-targeted antigens in Table
1
. In this review, we mainly introduced the correlated studies of EGFR, HER2, and mesothelin-specific CAR-T cells. Those TAAs are commonly expressed on solid tumors and have been developed by multi-research institutes. More importantly, some studies have achieved promising outcome.
Table 1
Tumor-associated antigens of CAR-T cell target
| Antigen | Full name | Disease |
| --- | --- | --- |
| EGFR | Epidermal growth factor receptor | NSCLC, epithelial carcinoma, glioma |
| EGFRvIII | Variant III of the epidermal growth factor receptor | Glioblastoma |
| HER2 | Human epidermal growth factor receptor 2 | Ovarian cancer, breast cancer, glioblastoma, colon cancer, osteosarcoma, medulloblastoma |
| MSLN | Mesothelin | Mesothelioma, ovarian cancer, pancreatic adenocarcinoma |
| PSMA | Prostate-specific membrane antigen | Prostate cancer |
| CEA | Carcinoembryonic antigen | Pancreatic adenocarcinoma, breast cancer, colorectal carcinoma |
| GD2 | Disialoganglioside 2 | Neuroblastoma, melanoma |
| IL13Rα2 | Interleukin-13Ra2 | Glioma |
| GPC3 | Glypican-3 | Hepatocellular carcinoma |
| CAIX | Carbonic anhydrase IX | Renal cell carcinoma (RCC) |
| L1-CAM | L1 cell adhesion molecule | Neuroblastoma, melanoma, ovarian adenocarcinoma |
| CA125 | Cancer antigen 125 (also known as MUC16) | Epithelial ovarian cancers |
| CD133 | Cluster of differentiation 133 (also known as prominin-1) | Glioblastoma, cholangiocarcinoma (CCA) |
| FAP | Fibroblast activation protein | Malignant pleural mesothelioma (MPM) |
| CTAG1B | Cancer/testis antigen 1B (also known as NY-ESO-1) | Melanoma and ovarian cancer |
| MUC1 | Mucin 1 | Seminal vesicle cancer |
| FR-α | Folate receptor-α | Ovarian cancer |
Antitumor mechanism of CAR-T cells
CAR-T cells recognize specific tumor antigens in a MHC-independent manner, which lead to the activation and execution of its antitumor function [
16
]. Once CAR specifically binds with TAAs, T cells are activated through the phosphorylation of immune receptor tyrosine-based activation motifs (ITAMs) and subsequently induce cytokine secretion, T cell proliferation, and cytotoxicity [
17
]. The original T cells, including CD8
+
and CD4
+
T cells, are isolated from peripheral blood or tumor tissues of patients. It is generally agreed that CD8
+
T cells play a critical part in immune responses against tumors, and CD4
+
T cells can help to enhance the efficiency of CD8
+
T cell-mediated cytotoxicity [
18
]. Chimeric immunoreceptor-activated T lymphocytes perform cytotoxicity through two predominant pathways: (1) secretion of perforin and granzyme granules and (2) activation of death receptor signaling via Fas/Fas-ligand (Fas-L) or TNF/TNF-R. CD8
+
T cells kill tumor cells through those two pathways. CD4
+
T cells destroy target cells primarily via perforin/granzyme, while death receptor-mediated apoptosis is believed to function as a compensatory pathway [
19
,
20
]. Many strategies have been employed to potentiate the functions of CAR-T cells. It has been demonstrated that CAR-T cells with multiple signaling receptors could improve amplification, cytokine production, and cytotoxicity of T cells, as well as reduce antigen-induced cell death (AICD) in vitro and in vivo [
21
]. CD40L-modified T cells enhanced the proliferation and secretion of proinflammatory Th1 cytokines, including IL-2, IFN-γ, IL-12, and TNF [
22
]. CD28 costimulation was critical for antigen-specific cytokine secretion and T cell proliferation without obvious effect on the receptor-mediated target cell lysis [
23
]. IL-12 enhanced the activation of cytotoxic T cell [
24
], recruited and reinforced the functions of innate immune cells such as NK cell and macrophage [
25
], enhanced the Th1-type helper T cell response, and exhibited antiangiogenic activities [
26
]. On this basis, T cells redirected for universal cytokine killing (TRUCK) was developed. TRUCK is a way to redirect CAR-T cells by producing and releasing a transgenic product, such as IL-12, to activate innate immune response against tumor cells which are invisible to CAR-T cells [
4
]. Besides targeting antigen-specific tumor cell, IFN-γ secreted by CAR-T cells contributed to the antigen-independent destruction of tumor cell through IFNγR expressed in tumor stroma [
27
]. Neeson et al. developed a novel transgenic mouse model CAR OT-I. CAR OT-I cells not only recognized target tumor cells and secreted cytotoxic granule proteins (perforin, granzyme B) but also induced serial killing which were observed in real time via time-lapse microscopy [
28
]. In addition, the outcome of clinical application of CAR T cells could be improved by strengthening the function of CAR-T cells through co-activation of macrophage and NK cell (Fig.
2
).
×
Target antigen expressing on solid tumor cell surface
In this part, we summarized the preclinical and clinical studies of CAR-T antigens in solid tumors, focusing on the common targets of EGFR, HER2, and mesothelin. Emphases were put on the scientific basic and progress in preclinical experiments of CAR-T cells.
Conclusions
In this review, we summarized the current preclinical and clinical studies on CAR-T therapy against solid tumors, especially targeting EGFR, HER2, and MSLN. The ideal target for CAR-T cells would be the tumor-specific antigens which are homogenously expressed on the surface of malignant cell and play a critical role in tumorigenesis. Although the curative effect in CAR-T treatments of hematological malignancies are reported, the results of pilot clinical trials on solid cancers are below expectation. Several obstacles have remained to be overcome for a successful application of CAR-T cells in solid tumor, including the lack of ideal TAAs, inefficient trafficking of CAR-T cells to tumor sites, hostile solid tumor microenvironment, and the risk of developing on-target/off-tumor toxicities [
15
,
17
]. To solve the problems, investigators have developed some strategies to potentiate the trafficking of CAR-T cells [
116
], reduce the inhabitation effect of tumor microenvironment [
110
], decrease the adverse effects, and so on [
115
]. In general, the preclinical studies of CAR-T cells in vitro and in vivo showed potent antitumor efficacy; with further exploration to improve the feasibility, safety, and efficiency of CAR-T cells, CAR-T therapy will take the central stage in the treatment of solid tumors.
Acknowledgements
Not applicable.
Funding
This review was supported by National Natural Science Foundation of China (Grant No. 81572608) and the National High Technology Research and Development Program of China (No. 2015AA020301).
Availability of data and materials
Data sharing is not applicable to this article as no datasets were generated or analyzed during the current study.
Authors' contributions
SY and AL searched the literatures and wrote the manuscript. QL, TL, and XY helped to collect the literatures and participated in the discussion. KW and XH designed the study. All authors read and approved the final manuscript.
Competing interests
The authors declare that they no competing interests.
Consent for publication
All authors have read and approved the final manuscript for publication.
Ethics approval and consent to participate
Not applicable.
Publisher's Note
Springer Nature remains neutral with regard to jurisdictional claims in published maps and institutional affiliations.
Open Access
This article is distributed under the terms of the Creative Commons Attribution 4.0 International License (
http://​creativecommons.​org/​licenses/​by/​4.​0/​
), which permits unrestricted use, distribution, and reproduction in any medium, provided you give appropriate credit to the original author(s) and the source, provide a link to the Creative Commons license, and indicate if changes were made. The Creative Commons Public Domain Dedication waiver (
http://​creativecommons.​org/​publicdomain/​zero/​1.​0/​
) applies to the data made available in this article, unless otherwise stated.