01.12.2016 | Research | Ausgabe 1/2016 Open Access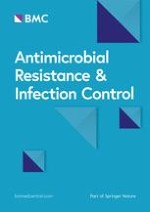 Cholera outbreak caused by drug resistant
Vibrio cholerae

serogroup O1 biotype ElTor serotype Ogawa in Nepal; a cross-sectional study
Zeitschrift:
Autoren:

Pappu Kumar Gupta, Narayan Dutt Pant, Ramkrishna Bhandari, Padma Shrestha
Abstract
Background
Cholera is a major cause of mortality and morbidity in underdeveloped countries including Nepal. Recently drug resistance in
Vibrio cholerae
has become a serious problem mainly in developing countries. The main objectives of our study were to investigate the occurrence of
Vibrio cholerae
in stool samples from patients with watery diarrhea and to determine the antimicrobial susceptibility patterns of
V. cholerae
isolates.
Methods
A total of 116 stool samples from patients suffering from watery diarrhea during July to December 2012 were obtained from outbreak areas from all over Nepal. Alkaline peptone water and thiosulphate citrate bile salt sucrose agar (TCBS) were used to isolate the
Vibrio cholerae
. The isolates were identified with the help of colony morphology, Gram's staining, conventional biochemical testing, serotyping and biotyping. Antimicrobial susceptibility testing was performed by determining the minimum inhibitory concentration (MIC) by agar dilution method.
Results
Vibrio cholerae
was isolated from 26.72 % of total samples. All isolated
Vibrio cholerae
were confirmed to be
Vibrio cholerae
serogoup O1 biotype El Tor and serotype Ogawa. All isolates were resistant to ampicillin and cotrimoxazole. Twenty nine isolates were resistant toward two different classes of antibiotics, one strain was resistant to three different classes of antibiotics and one strain was resistant to four different classes of antibiotics. According to the definition of the multidrug resistant bacteria; 6.45 % of the strains of
Vibrio cholerae
were found to be multidrug resistant.
Conclusions
Cholera due to multidrug resistant
Vibrio cholerae
is also possible in Nepal. According to the antimicrobial susceptibility pattern of
Vibrio cholerae
in our study we recommend to use any antibiotics among tetracycline, doxycycline, levofloxacin, azithromycin, chloramphenicol and ciprofloxacin for preliminary treatment of cholera in Nepal.