01.11.2010 | Symposium: Highlights of the ISOLS/MSTS 2009 Meeting | Ausgabe 11/2010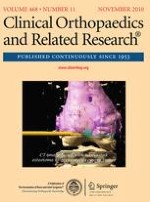 Chondrosarcoma of Bone: Lessons From 46 Operated Cases in a Single Institution
Zeitschrift:
Autoren:

MD, PhD Olavo Pires de Camargo, MD André Mathias Baptista, Marcelo Junqueira Atanásio, Daniel Reis Waisberg
Wichtige Hinweise
Each author certifies that he or she has no commercial association (eg, consultancies, stock of ownership, equity interest, patent/licensing arrangements, etc) that might pose a conflict of interest in connection with the submitted article.
Each author certifies that his or her institution has approved the human protocol for this investigation, and that all investigations were conducted in conformity with ethical principles of research, and that informed consent for participation in the study was obtained.
Abstract
Background
Bone chondrosarcomas are rare malignant tumors that have variable biologic behavior, and their treatment is controversial. For low-grade tumors, there is no consensus on whether intralesional en bloc resections are the best treatment.
Questions/purposes
We therefore compared patients with Grade 1 and Grade 2 primary central chondrosarcomas to (1) determine difference in survival and (2) local recurrence rates; and (3) determine any association of histological grade with some clinical and demographic characteristics.
Methods
We retrospectively reviewed 46 patients with grade 1 and 2 chondrosarcomas. There were 25 men and 21 women with a mean age of 43 years (range, 17–79 years). Minimum followup was 32 months (mean, 99 months; range, 32–312 months) for the patients who remained alive in the end of the study. Twenty-three of the tumors were intracompartmental (Enneking A); of these, 19 were Grade 1 and 4 were Grade 2. Twenty-three tumors were extracompartmental (Enneking B); of these, 4 were Grade 1 and 19 were Grade 2. Twenty-five patients underwent intralesional resection, 18 had wide resection, and three had amputations.
Results
The overall survival rate was 94% and the disease-free survival rate was 90%. Among the 23 Grade 1 tumors, we observed six local recurrences and none of these patients died; among the 23 Grade 2 tumors, 10 recurred and two patients died. Local recurrence negatively influenced survival.
Conclusions
For lesions with radiographic characteristics of intracompartmental Grade 1 chondrosarcoma, we believe intralesional resection followed by electrocauterization and cement is the best treatment. When the imaging suggests aggressive (Grade 2 or 3) chondrosarcoma, then wide resection is promptly indicated.
Level of Evidence
Level IV, case series. See Guidelines for Authors for a complete description of levels of evidence.