01.12.2017 | Case report | Ausgabe 1/2017 Open Access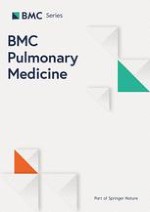 Chronic cough conundrum: a case report of a new diagnosis of HIV and pulmonary Kaposi's sarcoma
Zeitschrift:
Autoren:

Pamela P. Bailey, Marylou M. Dryer, John P. Piper, Sajjad Ahmad
Abstract
Background
When evaluating a common complaint such as cough, clinicians should rely on a patient's history and physical to guide them, but also not diverge from guidelines in screening and testing lest certain diagnoses be overlooked.
Case Presentation
A 44 year old Hispanic male presented to a pulmonologist's office after failing multiple courses of antibiotics for chronic cough, now six months in duration. He described intermittent scant hemoptysis and an evanescent migratory non-pruritic rash occasionally noted on his trunk or limbs. Due to financial concerns, the patient initially agreed only to limited testing. Eventually bronchoscopy was pursued, but results were pending when the patient presented to the emergency room with worsening dyspnea, blood-tinged sputum and weight loss. A diagnosis of Kaposi's sarcoma (KS) of the lung was confirmed by histopathologic staining and HIV/AIDS was confirmed (HIV1 PCR 70,900 copies/mL, CD4 count 26 cells/mm3). He had repeatedly denied HIV risk factors to all providers, but once the diagnosis was established, he confirmed sexual promiscuity prior to his marriage greater than 10 years ago. He was started on HAART before initiating therapy for his KS due to concern for immune reconstitution syndrome worsening his pulmonary status.
Conclusion
Pulmonary Kaposi's sarcoma is an infrequent diagnosis, yet risk is significantly greater for those with HIV infection. Diagnosis is difficult, with both symptoms and radiographic findings being nonspecific and not distinctly different from the appearance of pulmonary opportunistic infections. Without treatment, patients with pulmonary KS have median survival of months, but with chemotherapy and HAART they may achieve relief from symptoms and improve survival.
Following recommended screening guidelines and furthering diagnostic evaluation for persistently symptomatic patients are key to uncovering potentially fatal disease even for patients whose symptoms may seem as common and benign as an irritating cough.