01.12.2018 | Research article | Ausgabe 1/2018 Open Access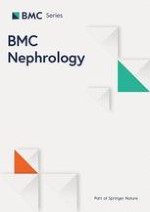 Chronic kidney disease with genitourinary tuberculosis: old disease but ongoing complication
Zeitschrift:
Autoren:

Eun Jin Kim, Woonji Lee, Woo Yong Jeong, Hen Choi, In Young Jung, Jin Young Ahn, Su Jin Jeong, Nam Su Ku, Jun Yong Choi, Young Hwa Choi, Young Goo Song, June Myung Kim
Wichtige Hinweise
Nam Su Ku and Young Hwa Choi contributed equally to this work.
Abstract
Background
Genitourinary tuberculosis (GUTB) is a type of extrapulmonary TB that exerts a deleterious effect on renal function by promoting renal calcification and ureteric stricture. Therefore, we investigated the risk factors for chronic kidney disease (CKD) in GUTB patients after the end of treatment.
Methods
This retrospective study was conducted at a tertiary hospital in South Korea. Data from patients (>18 years of age) with GUTB were collected from January 2005 to July 2016. CKD was defined as a glomerular filtration rate <60 mL/min/1.73m2 after the end of treatment.
Results
In total, 56 patients with GUTB (46.4% males; mean age 52.8 ± 16.6 years) were enrolled in the study. CKD developed in 11 (19.6%) patients and end-stage renal disease in 4 (7.1%). In a univariate analysis, older age (
p
 = 0.029), microscopic haematuria (
p
 = 0.019), proteinuria (
p
 = 0.029), acute renal failure (ARF) (
p
 < 0.001) and a positive polymerase chain reaction-based test result for TB in the urine (
p
 = 0.030) were significantly associated with decreased renal function. In a multivariate analysis, ARF (odds ratio [OR], 54.31; 95% confidence interval [CI], 1.52–1944.00;
p
 = 0.032) and old age (OR, 54.26; 95% CI, 1.52–1932.94;
p
 = 0.028) were independent risk factors for CKD in GUTB patients.
Conclusions
ARF and old age were independent risk factors for CKD in GUTB patients. Therefore, in elderly GUTB patients with ARF at the time of diagnosis, regular follow-up of renal function should be performed even after the end of treatment.