05.12.2018 | Original Article | Ausgabe 3/2019 Open Access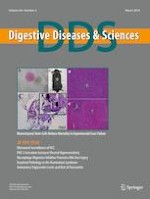 Circ-TTC17 Promotes Proliferation and Migration of Esophageal Squamous Cell Carcinoma
Zeitschrift:
Autoren:

Qian Wang, Qian Zhang, Handong Sun, Weiwei Tang, Lili Yang, Zhipeng Xu, Zhihua Liu, Hui Jin, Xiufeng Cao
Wichtige Hinweise
Electronic supplementary material
Qian Wang and Qian Zhang contributed equally to this work.
Abstract
Background
Circular RNAs (circRNAs), a special class of noncoding RNAs with the characteristic of covalent closed-loop structure, have been widely found in various organisms. Growing evidence has shown that circRNAs play a crucial role in regulating biological functions of cancers. However, the specific role of circRNAs in esophageal squamous cell carcinoma (ESCC) remains largely unknown.
Aim
The present study aims to investigate the effects of circ-TTC17 in ESCC clinical samples as well as cells.
Methods
Sanger sequencing and agarose gel electrophoresis were used to verify the specificity of circ-TTC17. Expression levels of circ-TTC17 in ESCC cells, plasma, and tissues were measured by quantitative real-time polymerase chain reaction. A colony formation experiment, CCK-8 assay, and wound-healing assay were applied to detect the functions of circ-TTC17 in KYSE30 and KYSE450 cells. A nucleus–cytoplasm fractionation experiment was used to probe the location of circ-TTC17 in ESCC cells. Finally, a network of circ-TTC17 with its targeted miRNAs interactions and corresponding mRNAs was analyzed and framed by bioinformatics.
Results
The expression level of circ-TTC17 was found to be significantly higher in ESCC cells, plasma, and tissues compared with normal cases. In vitro experiments indicated that circ-TTC17 promoted proliferation and migration of ESCC cells. Bioinformatics predictions showed that circ-TTC17 might regulate progress of ESCC by acting as a sponge for microRNAs (miRNAs).
Conclusions
The results of this study demonstrate that upregulated circ-TTC17 plays a key role in promoting proliferation and migration of ESCC cells and has potential to become a novel biomarker for diagnosis, treatment, and prognosis of ESCC in the future.