01.12.2019 | Primary research | Ausgabe 1/2019 Open Access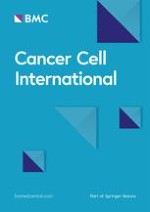 Circular RNA CDR1as sponges miR-7-5p to enhance E2F3 stability and promote the growth of nasopharyngeal carcinoma
Zeitschrift:
Autoren:

Qiong Zhong, Juncong Huang, Jiawang Wei, Renrui Wu
Wichtige Hinweise
Publisher's Note
Springer Nature remains neutral with regard to jurisdictional claims in published maps and institutional affiliations.
Abstract
Background
Circular RNA (circRNA) CDR1as plays an important role in the occurrence and development of human tumors. The purpose of this study is to investigate the molecular mechanism of circRNA CDR1as in the development of nasopharyngeal carcinoma (NPC).
Methods
The mRNA expressions of circRNA CDR1as, miR-7-5p, and E2F3 were detected by qRT-PCR. The effects of circRNA CDR1as, miR-7-5p, and E2F3 on NPC cells were investigated using cell counting kit-8 (CCK8) method, colony formation assay, and representative metabolite assay. The molecular mechanism of circRNA CDR1 in NPC was studied by bioinformatics and luciferase reporter assay. In addition, the biological activity of circRNA CDR1as was also investigated in NPC xenograft tumor mice model.
Results
The results showed that the circRNA CDR1as expression was significantly up-regulated in NPC tissues by comparison with non-tumor NPE tissues (
p 
< 0.01), suggesting that circRNA CDR1as was associated with poor prognosis in NPC patients. Moreover, circRNA CDR1as could up-regulate E2F3 expression by binding miR-7-5p, and promote the growth and glucose metabolism of NPC cells. Meanwhile, circRNA CDR1as could promote NPC progression through the negative regulation of miR-7-5p in the xenograft tumor model.
Conclusion
CircRNA CDR1as promoted the occurrence and development of NPCs by successively up-regulating the expression of miR-7-5p and E2F3, suggesting CircRNA CDR1as as a potential target for the treatment of NPC patients.
Trial registration
The study was approved by the cancer center's institutional research ethics committee on Oct 18, 2008 (2008GZ2847462)