01.12.2018 | Research | Ausgabe 1/2018 Open Access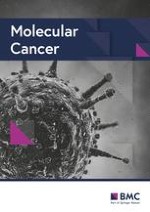 Circular RNA circ-ITCH inhibits bladder cancer progression by sponging miR-17/miR-224 and regulating p21, PTEN expression
Zeitschrift:
Autoren:

Chengdi Yang, Wenbo Yuan, Xiao Yang, Peng Li, Jingzi Wang, Jie Han, Jun Tao, Pengchao Li, Haiwei Yang, Qiang Lv, Wei Zhang
Wichtige Hinweise
Electronic supplementary material
Abstract
Background
Circ-ITCH is a circRNA generated from several exons of itchy E3 ubiquitin protein ligase (ITCH) and tumor suppressor served as a sponge for certain miRNAs targeting their parental transcripts of ITCH. However, the role of circ-ITCH in bladder cancer (BCa) was not reported. In the present study, we investigated the role of circ-ITCH in BCa.
Methods
Quantitative real-time PCR was used to detect the expression of circ-ITCH and survival analysis was adopted to explore the association between circ-ITCH expression and the prognosis of BCa. BCa cells were stably transfected with lentivirus approach and cell proliferation, migration, invasion, cell cycle and cell apoptosis, as well as tumorigenesis in nude mice were performed to assess the effect of circ-ITCH in BCa. Biotin-coupled probe pull down assay, Biotin-coupled miRNA capture, Fluorescence in situ hybridization and Luciferase reporter assay were conducted to confirm the relationship between the circ-ITCH and the microRNA.
Results
In the present study, we found that circ-ITCH, is down-regulated in BCa tissues and cell lines. BCa patients with low circ-ITCH expression had shortened survival. Enforced- expression of circ-ITCH inhibited cells proliferation, migration, invasion and metastasis both in vitro and in vivo. Mechanistically, we demonstrated that circ-ITCH up-regulates the expression of miR-17 and miR-224 target gene p21 and PTEN through 'sponging' miR-17 and miR-224, which suppressed the aggressive biological behaviors of BCa.
Conclusions
circ-ITCH acts as a tumor suppressor by a novel circ-ITCH/miR-17, miR-224/p21, PTEN axis, which may provide a potential biomarker and therapeutic target for the management of BCa.