01.12.2019 | Research | Ausgabe 1/2019 Open Access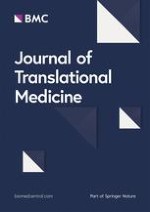 Circular RNA hsa_circ_0055538 regulates the malignant biological behavior of oral squamous cell carcinoma through the p53/Bcl-2/caspase signaling pathway
Zeitschrift:
Autoren:

Wen Su, Shuai Sun, Feng Wang, Yuehong Shen, Hongyu Yang
Abstract
Background
Oral squamous cell carcinoma (OSCC) is a common oral and maxillofacial malignant tumor with high rates of metastasis and mortality. Circular RNAs (circRNAs), a type of non-coding RNA, are involved in the development of a variety of tumors. The roles of circRNAs in OSCC are unclear; in this study, the correlation between the circRNA hsa_circ_0055538, previously identified by high-throughput sequencing, and the biological behavior of OSCC was evaluated.
Methods
circRNA expression was evaluated using patient tissue samples and various OSCC cell lines. The effects of overexpression and knockdown were evaluated by lentiviral infection and siRNA transfection of the SCC9 and CAL27 cell lines. Migration, invasion, apoptosis, and the expression of proteins in the p53 signaling pathway were evaluated. Infected cells were injected into nude mice to evaluate tumorigenesis.
Results
Low hsa_circ_0055538 expression levels were verified in tumor tissues and OSCC cell lines. Clinical data analysis showed that the expression level is related to the degree of tumor differentiation. Lentiviral infection and siRNA transfection of SCC9 and CAL27 cell lines revealed that changes in circRNA expression significantly affected the malignant biological behavior of OSCC cells. Importantly, nude mouse experiments showed that high expression of hsa_circ_0055538 inhibited tumor growth. Finally, hsa_circ_0055538 may affect the development of OSCC via the p53/Bcl-2/caspase signaling pathway.
Conclusions
Our results indicated that hsa_circ_0055538 is involved in OSCC via the p53 signaling pathway and may be a diagnostic and/or prognostic marker as well as a therapeutic target.