01.12.2018 | Research article | Ausgabe 1/2018 Open Access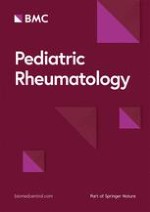 Circulating adipokines are associated with Kawasaki disease
Zeitschrift:
Autoren:

Xin-yan Zhang, Ting-ting Yang, Xiu-fen Hu, Yu Wen, Feng Fang, Hui-ling Lu
Abstract
Background
The pathogenesis of Kawasaki disease are still not well understood. It was designed to investigate the relationship between adipokines including chemerin, omentin-1, adiponectin and acute Kawasaki disease.
Methods
Enzyme-linked immunosorbent (ELISA) was used to detect serum levels of chemerin, omentin-1, adiponectin, and inflammatory cytokines IL-1β and TNF-α in 80 cases of patients diagnosed with Kawasaki disease (KD). In addition, 20 cases of children with fever and 20 cases of healthy children were selected as febrile and normal controls.
Results
(1) Serum levels of chemerin in KD group (87.736 ± 56.310) are higher than that of both the healthy (41.746 ± 10.824) and the febrile controls (59.683 ± 18.282) (
P
 < 0.01). (2) Circulating omentin-1 levels in Kawasaki disease group (389.773 ± 238.611) are significantly lower than that of febrile control (542.075 ± 177.995) (
P
 < 0.01), also serum adiponectin levels in Kawasaki disease group (16.400 ± 12.243) reduced obviously compared with the febrile control group (35.074 ± 12.486). (3)Serum cytokine levels of IL-1β in Kawasaki disease group (13.656 ± 31.151) are higher than those of normal controls (2.415 ± 6.313) (
P
 < 0.05). (4) Correlation analysis indicates that serum levels of chemerin are positively correlated with omentin-1 (
r
 = 0.224, 95% CI 0.06–0.529,
P
 < 0.05). Further, serum omentin-1 levels and total cholesterol (TC) are positively correlated (
r
 = 0.358, 95% CI 0.169–0.518,
P
 < 0.01).
Conclusions
Circulating chemerin increased significantly in the acute stage of Kawasaki disease, while omentin-1 and adiponectin levels are decreased. These adipokines are closely associated with the early inflammation and lipid metabolism disorders of acute Kawasaki disease.