03.07.2019 | Article | Ausgabe 9/2019 Open Access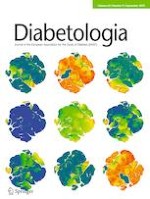 Circulating CXCR5−PD-1hi peripheral T helper cells are associated with progression to type 1 diabetes
Zeitschrift:
Autoren:

Ilse Ekman, Emmi-Leena Ihantola, Tyyne Viisanen, Deepak A. Rao, Kirsti Näntö-Salonen, Mikael Knip, Riitta Veijola, Jorma Toppari, Jorma Ilonen, Tuure Kinnunen
Wichtige Hinweise
Electronic supplementary material
Publisher's note
Springer Nature remains neutral with regard to jurisdictional claims in published maps and institutional affiliations.
Abstract
Aims/hypothesis
Type 1 diabetes is preceded by a period of asymptomatic autoimmunity characterised by positivity for islet autoantibodies. Therefore, T helper cell responses that induce B cell activation are likely to play a critical role in the disease process. Here, we aimed to evaluate the role of a recently described subset, C-X-C motif chemokine receptor type 5-negative, programmed cell death protein 1-positive (CXCR5−PD-1hi) peripheral T helper (Tph) cells, in human type 1 diabetes.
Methods
The phenotype of blood CXCR5−PD-1hi CD4+ T cells was analysed by multicolour flow cytometry. The frequencies of circulating CXCR5−PD-1hi T cells were analysed in a cohort of 44 children with newly diagnosed type 1 diabetes, 40 autoantibody-positive (AAb+) at-risk children and 84 autoantibody-negative healthy control children, and the findings were replicated in a separate cohort of 15 children with newly diagnosed type 1 diabetes and 15 healthy control children.
Results
Circulating CXCR5−PD-1hi Tph cells share several features associated with B cell helper function with circulating CXCR5+PD-1hi follicular T helper (Tfh) cells. Moreover, the frequency of circulating Tph cells was increased in children with newly diagnosed type 1 diabetes, especially in those who are positive for multiple autoantibodies. Importantly, circulating Tph cells were also increased in autoantibody-positive at-risk children who later progressed to type 1 diabetes.
Conclusions/interpretation
Our results demonstrate that circulating CXCR5−PD-1hi Tph cells are associated with progression to clinical type 1 diabetes. Consequently, Tph cells could have potential both as a biomarker of disease progression and as a target for immunotherapy in type 1 diabetes.