01.12.2014 | Research | Ausgabe 1/2014 Open Access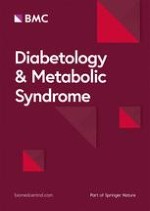 Circulating levels of irisin in middle-aged first-degree relatives of type 2 diabetes mellitus — correlation with pancreatic β-cell function
Zeitschrift:
Autoren:

Meili Yang, Peihong Chen, Hua Jin, Xinmiao Xie, Ting Gao, Lili Yang, Xuemei Yu
Wichtige Hinweise
Electronic supplementary material
The online version of this article (doi:
10.​1186/​1758-5996-6-133
) contains supplementary material, which is available to authorized users.
Competing interests
The authors declare that they have no competing interests.
Authors' contributions
MY made substantial contributions to the conception and design of the study, participated in the acquisition, analysis and interpretation of data and drafted the manuscript. PC helped in the statistical analysis and writing the manuscript. HJ participated in interpretation of data and discussion. XX, TG, and LY participated in taking all blood samples, performing the questionnaire survey and acquisition of data. XY participated in the conception, design and coordination of the study; she also helped to draft the manuscript and gave the final approval of the version to be published. All authors read and approved the final manuscript.
Abstract
Background
Irisin is a novel myokine secreted in response to peroxisome proliferator-activated receptor γ coactivator-1α (PGC-1α) activation through exercise. The first-degree relatives (FDRs) of type 2 diabetes mellitus (T2DM) patients bear a lifetime risk for developing T2DM, especially after 40 years old. However, the circulating irisin levels in middle-aged FDRs of T2DM is unclear. We therefore investigated the association between circulating irisin and pancreatic β-cell function in normal-glucose-tolerance (NGT) subjects.
Methods
In this cross-sectional study, we recruited 412 supposed healthy subjects aged 40-60 who were FDRs of T2DM patients but without previous diagnosis of T2DM. Of the 412 individuals, 254 had NGT and 60 were newly diagnosed T2DM based on the results of a 75 g oral glucose tolerance test (OGTT- World Health Organization diagnostic criteria). We measured irisin in the newly diagnosed T2DM group (n = 60) and in an age- and sex-matched NGT subgroups (n = 62). Serum irisin was quantified by ELISA, and its association with metabolic parameters was analysed by Pearson's correlation and multiple linear regression analyses.
Results
There was no significant difference in serum irisin between middle-aged newly diagnosed T2DM patients and the NGT control group. Circulating irisin was correlated with haemoglobin A1c (r = 0.202,
p
 = 0.026) and estimated glomerular filtration rate (r = 0.239,
p
 = 0.010). Multiple linear regression revealed that only homeostasis model assessment-β (HOMA-β) was associated with irisin in NGT subjects after adjusting for confounding factors. However, similar analysis in T2DM did not reveal a significant association between circulating irisin and metabolic parameters.
Conclusions
There was no significant difference in serum irisin between middle-aged newly diagnosed T2DM patients and the NGT controls. Serum irisin level was closely related to HOMA-β in NGT, suggesting that irisin may play a crucial role in pancreatic β-cell function.