01.12.2016 | Research | Ausgabe 1/2016 Open Access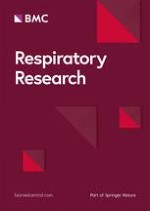 Circulating microparticles in severe pulmonary arterial hypertension increase intercellular adhesion molecule-1 expression selectively in pulmonary artery endothelium
Zeitschrift:
Autoren:

Leslie A. Blair, April K. Haven, Natalie N. Bauer
Wichtige Hinweise
Electronic supplementary material
The online version of this article (doi:
10.​1186/​s12931-016-0445-1
) contains supplementary material, which is available to authorized users.
Abstract
Background
Microparticles (MPs) stimulate inflammatory adhesion molecule expression in systemic vascular diseases, however it is unknown whether circulating MPs stimulate localized ICAM-1 expression in the heterogeneically distinct pulmonary endothelium during pulmonary arterial hypertension (PAH). Pulmonary vascular lesions with infiltrating inflammatory cells in PAH form in the pulmonary arteries and arterioles, but not the microcirculation. Therefore, we sought to determine whether circulating MPs from PAH stimulate pulmonary artery endothelial cell-selective ICAM-1 expression.
Results
Pulmonary artery endothelial cells (PAECs) were exposed to MPs isolated from the circulation of a rat model of severe PAH. During late-stage (8-weeks) PAH, but not early-stage (3-weeks), an increase in ICAM-1 was observed. To determine whether PAH MP-induced ICAM-1 was selective for a specific segment of the pulmonary circulation, pulmonary microvascular endothelial cells (PMVECs) were exposed to late-stage PAH MPs and no increase in ICAM-1 was detected. A select population of circulating MPs, the late-stage endoglin + MPs, were used to assess their ability to stimulate ICAM-1 and it was determined that the endoglin + MPs were sufficient to promote ICAM-1 increases in the whole cell, but not surface only expression.
Conclusions
Late-stage, but not early-stage, MPs in a model of severe PAH selectively induce ICAM-1 in pulmonary artery endothelium, but not pulmonary microcirculation. Further, the selected endoglin + PAH MPs, but not endoglin + MPs from control, are sufficient to promote whole cell ICAM-1 in PAECs. The implications of this work are that MPs in late-stage PAH are capable of inducing ICAM-1 expression selectively in the pulmonary artery. ICAM-1 likely plays a significant role in the observed inflammatory cell recruitment, specifically to vascular lesions in the pulmonary artery and not the pulmonary microcirculation.