01.12.2012 | Research | Ausgabe 1/2012 Open Access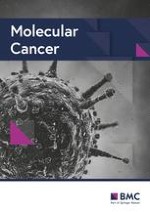 Cisplatin and ultra-violet-C synergistically down-regulate receptor tyrosine kinases in human colorectal cancer cells
Zeitschrift:
Autoren:

Junji Kawaguchi, Seiji Adachi, Ichiro Yasuda, Takahiro Yamauchi, Masanori Nakashima, Tomohiko Ohno, Masahito Shimizu, Takashi Yoshioka, Masahiko Itani, Osamu Kozawa, Hisataka Moriwaki
Wichtige Hinweise
Electronic supplementary material
The online version of this article (doi:
10.​1186/​1476-4598-11-45
) contains supplementary material, which is available to authorized users.
Competing interests
The authors declare that they have no competing interests.
Authors' contributions
SA designed the research studies; SA, JK, TY, MN, TO, MS, TY and MI carried out the molecular biological studies; SA, IY, OK and HM analyzed and interpreted the data; JK wrote the draft of the manuscript. All authors read and approved the final manuscript.
Abstract
Background
Platinum-containing anti-cancer drugs such as cisplatin are widely used for patients with various types of cancers, however, resistance to cisplatin is observed in some cases. Whereas we have recently reported that high dose UV-C (200 J/m²) induces colorectal cancer cell proliferation by desensitization of EGFR, which leads oncogenic signaling in these cells, in this study we investigated the combination effect of low dose cisplatin (10 μM) and low dose UV-C (10 J/m²) on cell growth and apoptosis in several human colorectal cancer cells, SW480, DLD-1, HT29 and HCT116.
Results
The combination inhibited cell cycle and colony formation, while either cisplatin or UV-C alone had little effect. The combination also induced apoptosis in these cells. In addition, the combination caused the downregulation of EGFR and HER2. Moreover, UV-C alone caused the transient internalization of the EGFR, but with time EGFR recycled back to the cell surface, while cisplatin did not affect its localization. Surprisingly, the combination caused persistent internalization of the EGFR, which results in the lasting downregulation of the EGFR.
Conclusions
The combination of low dose cisplatin and low dose UV-C synergistically exerted anti-cancer effect by down-regulating RTK, such as EGFR and HER2. These findings may provide a novel strategy for the treatment of patients with colorectal cancer.