16.03.2016 | Original Article | Ausgabe 1/2017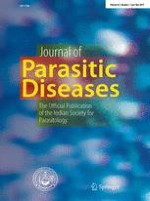 Classico-molecular targeting of oligopeptidase B, cysteine protease and variable surface glycoprotein (VSG) genes of
Trypanosoma evansi
Zeitschrift:
Autoren:

Ruchi Singh Gaur, Vikrant Sudan, Amit Kumar Jaiswal, Amit Singh, Daya Shanker
Abstract
Trypanosomosis or Surra can rightly be attributed as the most economically important vector-borne haemoprotozoan disease encountering India. Surra infected chronic cases show almost similar types of signs and symptoms often confusing it with other haemoprotozoan infections, thereby, making it prerequisite for the development of aspecific and sensitive technique for its detection in susceptible animals. Blood microscopy and serology suffers from the hands of lack of sensitivity and specificity thereby leaving molecular detection techniques as one of the promising alternative. Alongside, there is utmost need for exploring of new molecular gene targets for the development of a putative alternative for diagnosis and immunoprophylaxsis. The present communication describes the identification and amplification of oligopeptidase B, cysteine protease and variable surface glycoprotein genes of
T. evansi
so as to exploit them in future as potential candidates for immune protection and/or molecular detection.