01.09.2008 | Original Article | Ausgabe 9/2008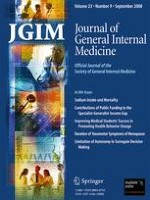 Classifying and Predicting Errors of Inpatient Medication Reconciliation
Zeitschrift:
Autoren:

MD Jennifer R. Pippins, MD, MPH Tejal K. Gandhi, MD, MS Claus Hamann, MPH Chima D. Ndumele, Pharm D, BCPS Stephanie A. Labonville, Pharm D Ellen K. Diedrichsen, MD, MPH Marcy G. Carty, MD, MPH Andrew S. Karson, MD Ishir Bhan, MD Christopher M. Coley, MPH Catherine L. Liang, MD, MS Alexander Turchin, PA, MHA Patricia C. McCarthy, MD, MPH Jeffrey L. Schnipper
Wichtige Hinweise
Portions of this work were presented as a poster at the 2007 Summer Meeting of the American Society of Health-System Pharmacists, June 24–27, 2007, San Francisco, CA and as a poster at the 2008 Annual Meeting of the Society of General Internal Medicine, April 9–12, 2008, Pittsburgh, PA. This study was supported in part by an investigator-initiated grant from the Harvard Risk Management Foundation, and by internal support from Massachusetts General Hospital, Brigham and Women's Hospital, and Partners Healthcare. Dr. Pippins was supported by a National Research Service Award from the Health Resources and Services Administration (T32 HP11001–18). Dr. Schnipper is supported by a Mentored Clinical Scientist Award from the National Heart, Lung, and Blood Institute (K08 HL072806).
Abstract
Background
Failure to reconcile medications across transitions in care is an important source of potential harm to patients. Little is known about the predictors of unintentional medication discrepancies and how, when, and where they occur.
Objective
To determine the reasons, timing, and predictors of potentially harmful medication discrepancies.
Design
Prospective observational study.
Patients
Admitted general medical patients.
Measurements
Study pharmacists took gold-standard medication histories and compared them with medical teams' medication histories, admission and discharge orders. Blinded teams of physicians adjudicated all unexplained discrepancies using a modification of an existing typology. The main outcome was the number of potentially harmful unintentional medication discrepancies per patient (potential adverse drug events or PADEs).
Results
Among 180 patients, 2066 medication discrepancies were identified, and 257 (12%) were unintentional and had potential for harm (1.4 per patient). Of these, 186 (72%) were due to errors taking the preadmission medication history, while 68 (26%) were due to errors reconciling the medication history with discharge orders. Most PADEs occurred at discharge (75%). In multivariable analyses, low patient understanding of preadmission medications, number of medication changes from preadmission to discharge, and medication history taken by an intern were associated with PADEs.
Conclusions
Unintentional medication discrepancies are common and more often due to errors taking an accurate medication history than errors reconciling this history with patient orders. Focusing on accurate medication histories, on potential medication errors at discharge, and on identifying high-risk patients for more intensive interventions may improve medication safety during and after hospitalization.