30.07.2020 | Case-Based Review | Ausgabe 12/2020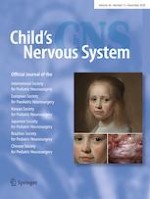 Cleidocranial dysplasia, a rare skeletal disorder with failure of the cranial closure: case-based update
Zeitschrift:
Autoren:

Laryssa C. Azevedo Almeida, Franklin B. Faraj de Lima, Hamilton Matushita, Marcelo M. Valença, Tamireis L. Ferreira Castro, Rafael N. de Mendonça
Wichtige Hinweise
Publisher's note
Springer Nature remains neutral with regard to jurisdictional claims in published maps and institutional affiliations.
Abstract
Background and aim
Cleidocranial dysplasia is a rare disorder of skeletal development that mainly promotes, among other malformations, inadequate development of clavicles and failure in cranial closure. In this affection, the role of neurosurgery in addressing cranial defects is rarely discussed.
Material and methods
We conducted an extensive review of the literature using the PubMed database, giving a greater focus to publications in the field of neurosurgery. Additionally, we report a case of a 2-year-old female child with cleidocranial dysplasia.
Results
In our review, we encountered several cases of orthodontic implications but a few cases on cranial defect approach.
Conclusion
The articles present literature that is unanimous on the recommendation of expectant conduct in children since the cranial block can occur spontaneously, even if the delayed form. In our approach, we opted for an expected strategy concerning the cranial defect, using a helmet made for brain protection. We also made the referral for multidisciplinary monitoring of pediatrics, neuropediatrics, ophthalmology, dentistry, and orthopedics.