01.12.2018 | Research | Ausgabe 1/2018 Open Access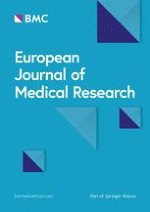 Clinical analysis of 50 patients with heterotopic pregnancy after ovulation induction or embryo transfer
Zeitschrift:
Autoren:

Zaigui Wu, Xinmei Zhang, Ping Xu, Xiufeng Huang
Abstract
Objectives
The purpose of this study was to evaluate the clinical characteristics, prenatal diagnosis, and management of patients with heterotopic pregnancy after ovulation induction or embryo transfer.
Methods
This was a retrospective study of fifty cases with heterotopic pregnancy, in which the fertilization way, type and number of embryo transferred, gestational age, clinical presentation and outcome of intrauterine, ultrasound presentation and site of ectopic pregnancy, bilateral fallopian tube and treatment were evaluated.
Results
Six patients had spontaneous pregnancy and two had artificial insemination after ovulation induction. Sixteen had fresh and nineteen had frozen embryo transfer with seven patients unrecorded its embryo type and number. The average days from transplantation (or intercourse/insemination) to diagnosing heterotopic pregnancy was thirty-seven with the earliest eighteen and the latest more than 70 days. Although the most common presentation was vaginal bleeding or abdominal pain, more than 21% was found by ultrasound and rare individuals even presented with gastrointestinal symptom which may imply ruptured EP and hemorrhagic shock. Giving proper treatment (surgery or local drug injection), the majority of them had a successful intrauterine pregnancy with only seven miscarried.
Conclusions
Ovulation induction or embryo transfer increased the risk of HP greatly and clinician should raise high suspicious during the whole first trimester. Although the most ectopic site was ampullary, other sites such as cornual, cervical, abdominal especially interstitial or tubal stumps should also be assessed by ultrasound even in patients with bilateral salpingectomy or tubal obstructed. Repeated ultrasound tests 2 weeks after the diagnosis of intrauterine pregnancy with heart beating was very necessary to find the missed ones in suspicious patients. Compared with surgery, embryo suction with or without proper local drug injection would be more advisable for patients with cervical, cornual, or interstitial pregnancy in order to reserve the intrauterine pregnancy.