01.12.2017 | Research | Ausgabe 1/2017 Open Access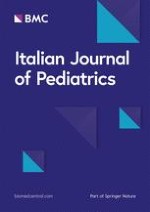 Clinical and epidemiological profiles including meteorological factors of low respiratory tract infection due to human rhinovirus in hospitalized children
Zeitschrift:
Autoren:

Yongdong Yan, Li Huang, Meijuan Wang, Yuqing Wang, Wei Ji, Canhong Zhu, Zhengrong Chen
Abstract
Background
Lower respiratory tract infection (LRTI) is a major cause of morbidity and mortality in children. Human rhinovirus (HRV) is confirmed to be associated with pediatric lower respiratory tract infection. Seasonal and meteorological factors may play a key role in the epidemiology of HRV. The purposes of this study were to investigate the frequency, seasonal distribution, and clinical characteristics of hospitalized children with LRTI caused by HRVs. In addition, associations between incidence of HRVs and meteorological factors in a subtropical region of China were discussed.
Methods
Hospitalized children <14 years old admitted to the Respiratory Department of the Children's Hospital, which is affiliated to Soochow University, between January 1, 2013 and December 31, 2015, were enrolled in this study. Multi-pathogens were detected in nasopharyngeal aspirate samples. Meanwhile, meteorological factors were recorded.
Results
The average incidence of HRVs infection was 11.4% (707/6194) and 240 cases of which were co-infection cases with other pathogens. Children with co-infection presented more frequent fever and tachypnea compared to children infected with HRVs only (both
P
 < 0.05). Among 707 HRV positive children, the mean age was 23.2 months (range 1 to 140 months). Among all respiratory infections, the highest incidence of HRVs cases occurred in children age 13–36 months old (15.1%, 203/1341). Of all 228 HRV cases in 2014, 85 cases (37.3%) were HRV-C positive. HRVs and HRV-C infection occurred throughout the year during the study period, although a higher incidence was observed in summer and autumn seasons. HRVs or HRV-C incidence in hospitalized children with LRTI was associated with the monthly mean temperature (both
P
 < 0.05).
Conclusion
HRV was one of the most common viral pathogen detected in hospitalized children with LRTI at the Children's Hospital of Suzhou, China, and had its own seasonal distribution including HRV-C, which was partly caused by temperature.