14.12.2017 | Brief Communication | Ausgabe 1/2018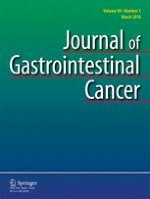 Clinical and Genetic Implications of DNA Mismatch Repair Deficiency in Biliary Tract Cancers Associated with Lynch Syndrome
Zeitschrift:
Autoren:

Jordan M Cloyd, Yun Shin Chun, Naruhiko Ikoma, Jean Nicolas Vauthey, Tlhomas A. Aloia, Amanda Cuddy, Miguel A. Rodriguez-Bigas, Y. Nancy You
Abstract
Purpose
Patients with Lynch syndrome (LS) have a significantly elevated lifetime risk of developing biliary tract cancers (BTCs) compared to the general population. However, few studies have characterized the clinical characteristics, genetic features, or long-term outcomes of mismatch-repair deficient (dMMR) cholangiocarcinomas associated with LS.
Methods
A retrospective review of a prospectively maintained Familial High-Risk GI Cancer Clinic database identified all patients with BTCs evaluated from 2006 to 2016 who carried germline mutations in
MLH1
,
MSH2
,
MSH6
, or
PMS2
.
Results
Eleven patients with BTCs were identified: four perihilar, four intrahepatic, one extrahepatic, one gallbladder, and one ampulla of Vater. All patients had underlying germline mutations and a personal history of a LS-associated malignancy, most commonly (63.3%) colorectal cancer. Ten (90.9%) patients were surgically explored, and margin negative resection was possible in seven (63.3%). Chemotherapy (90.9%) and/or chemoradiation (45.5%) was administered to most patients. Among the seven patients presenting with non-metastatic disease who underwent surgical resection with curative intent, the 5-year overall survival rate was 53.3%. The median overall survival for the four patients not treated with curative intent was 17.2 months.
Conclusions
dMMR biliary tract cancers associated with LS are rare but long-term outcomes may be more favorable than contemporaneous cohorts of non-Lynch-associated cholangiocarcinomas. Given the emerging promise of immunotherapy for patients with dMMR malignancies, tumor testing for dMMR followed by confirmatory germline testing should be considered in patients with BTC and a personal history of other LS cancers.