25.05.2019 | Original Article | Ausgabe 5/2019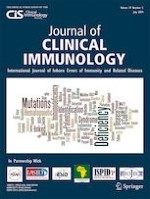 Clinical and Laboratory Features of 184 Italian Pediatric Patients Affected with Selective IgA Deficiency (SIgAD): a Longitudinal Single-Center Study
Zeitschrift:
Autoren:

Vassilios Lougaris, Annamaria Sorlini, Chiara Monfredini, Giulia Ingrasciotta, Andrea Caravaggio, Tiziana Lorenzini, Manuela Baronio, Marco Cattalini, Antonella Meini, Laura Ruggeri, Annamaria Salpietro, Alba Pilotta, Livia Grazzani, Elena Prandi, Barbara Felappi, Giulio Gualdi, Antonella Fabiano, Maurizio Fuoti, Alberto Ravelli, Vincenzo Villanacci, Annarosa Soresina, Raffaele Badolato, Alessandro Plebani
Wichtige Hinweise
Electronic supplementary material
Publisher's Note
Springer Nature remains neutral with regard to jurisdictional claims in published maps and institutional affiliations.
Abstract
Purpose
Selective IgA deficiency (SIgAD) is the most common humoral primary immunodeficiency. Long-term follow-up data in large cohort of pediatric patients are scarce.
Methods
We report on a single-center cohort of 184 pediatric patients affected with selective IgA deficiency and describe the characteristics at diagnosis and during follow-up.
Results
Respiratory infections were the most common clinical finding leading to the initial diagnosis (62%). Positive family history for antibody deficiencies (selective IgA deficiency, common variable immunodeficiency) led to SIgAD diagnosis in 16% of cases. During follow-up, while the incidence of respiratory infections was not particularly high, gastrointestinal symptoms were reported in 27% of patients. Allergic manifestations were found in 23% at diagnosis and an additional 16% of patients during follow-up, leading to a prevalence of atopy of 39% among SIgAD patients. Autoimmune manifestations, excluding celiac disease, were found in 9% of affected patients during follow-up. Celiac disease was found in a high prevalence (14%). Increase of serum IgA levels to partial deficiency (9%) and normal serum levels for age (4%) was observed during follow-up. A small percentage of patients (2%) progressed to common variable immunodeficiency (CVID).
Conclusions
In conclusion, this is the first study to describe a large single-center pediatric cohort of patients affected with SIgAD, revealing that overall most patients do well with regard to infections. Many develop CD, at a rate much higher than the general population. A few normalize their IgA levels. A few progress to CVID. Thus, careful follow-up is suggested to diagnose and treat potential complications earlier for avoiding potential morbidities.