01.12.2014 | Case Report | Ausgabe 12/2014 Open Access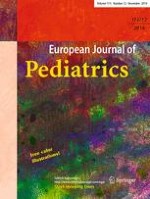 Clinical and molecular characteristics of two transaldolase-deficient patients
Zeitschrift:
Autoren:

Anna Tylki-Szymanska, Mirjam M. C. Wamelink, Teresa J. Stradomska, Gajja S. Salomons, Joanna Taybert, Nel Dąbrowska-Leonik, Małgorzata Rurarz
Wichtige Hinweise
Communicated by Willem Proesmans
Abstract
Transaldolase (TALDO) deficiency is a rare metabolic disease in the pentose phosphate pathway, which manifests as a severe, early-onset multisystem disease. The body fluids of affected patients contain increased polyol concentrations and seven-carbon chain carbohydrates. We report the molecular and clinical findings in two recently diagnosed transaldolase-deficient children, both presented at birth. During infancy, they presented thin skin with a network of visible vessels, spider telangiectasias and multiple haemangiomas. Such unusual skin changes are characteristic of liver damage. Later, the patients developed rapidly progressive nodular liver fibrosis, tubulopathy and severe clotting disturbances. The clinical features of these patients were in line with previously studied patients with transaldolase deficiency. The diagnosis was established by detecting high concentrations of erythritol, ribitol, arabitol, sedoheptitol, perseitol, sedoheptulose and sedoheptulose-7-phosphate in the urine. Detection was made by gas chromatography and liquid chromatography-tandem mass spectrometry and then confirmed by molecular analysis of the TALDO gene.
Conclusion
: Transaldolase deficiency, a rare early-onset multisystem disease, should be considered by neonatologists, paediatricians, hepatologists and nephrologists in the differential diagnosis of patients presenting hepatosplenomegaly, thrombocytopenia, anaemia, bleeding diathesis, liver failure and tubulopathy.